Welcome
Welcome to Southport Melodic Jazz Club's new website!
Jazz on a Winter's Weekend 2014
31st Jan-2nd February 2014
The 10th Jazz on a Winter's Weekend festival took place on 31 Jan to 2nd Feb 2014 at The Royal Clifton Hotel Southport.
Click here to see festival photos and reviews
Upcoming Club Gigs
Sunday 20th April 2014
matinee £14 club members £13 NUS £8
evening £14 club members £13 NUS £8
combined £26 club members £24 NUS £16
2 p.m. - 4:30 p.m.
Georgina Jackson with Swingshift Big Band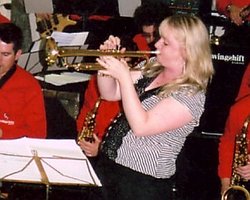 Now London resident, a regular at Ronnie Scott's, in West End show bands and on BBC Radio 2, Wigan Y.J.O alumna and formidable trumpet / vocal virtuoso Georgina Jackson (neé Bromilow) fronts Swingshift for another great concert.
8 p.m. - 10:30 p.m.
Alan Benzie Trio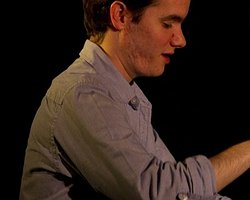 Scottish Young Jazz Pianist Of The Year, Berklee College scholarship graduate, Billboard Magazine Awardee, runner up BBC Scottish Jazz Awards Pianist Of The Year and still in his early 20's. If you like your jazz piano in the Bill Evans mode, this hugely talented young man's trio will delight you.
Sunday 11th May 2014
matinee £12 members £11
evening gala concert £15 members £14
day ticket (all events) £26 members £24
2 p.m. - 4:30 p.m.
The Ben Cox Band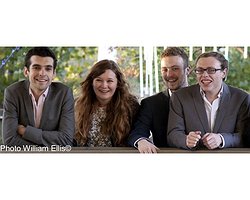 This exciting young band are set to tour in 2014 with their new album "This Waiting Game". All four are steeped in jazz history, but they write their own songs too. Influences range from Joni Mitchell, Paul Simon to James Taylor, but you'll also get some great American Songbook. Fronted by the sensational Ben Cox, whose voice takes in the cool stylings of Chet Baker and mixes it with the soulful, mellow tones of a modern jazz singer. Sassy and slick with great arrangements and beautiful songs mark out this vocal lead jazz group.
Keys:

Jamie Safiruddin

Bass:

Flo Moore

Drums:

Will Glaser

Vocals/Lead:

Ben Cox
8 p.m. - 10:30 p.m.
Clark Tracey Quintet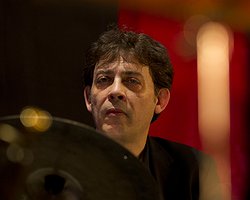 Iconic drummer Clark Tracey has a brilliant track record in finding, selecting and developing some of the best talent in jazz through his quintets - and giving them space to write for the band (to mention but one - Zoe Rahmann ). This latest grouping is surely one of his finest - a hugely gifted bunch - recently emerged from the UK's jazz conservatoires.
Drums/lead:

Clark Tracey

Piano:

Harry Bolt

Trumpet:

Henry Armburg-Jennings

Saxes:

Chris Maddock

Bass:

Dan Casimir
Sunday 22nd June 2014
matinee concert £13 members £12
dinner-jazz £16 (includes 3 course dinner)
evening concert £15 members £14
day ticket (to all events) £42 members £40
2 p.m. - 4:30 p.m.
The SueYo Six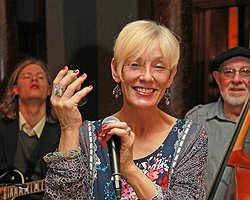 For afficionados of Dobbies Tea Jazz in Southport and Liverpool's Parr Jazz, this great vocalist and her musi- cians need no introduction. SuEyo has a real jazz feel from the influence of her idols Ella, Billie, Sarah and Anita. Her band is superb. Expect to be wowed!
Voice:

SueYo

Trumpet:

Steve Parry

Saxes:

Andor Jensen

Bass:

John McCormick

Piano:

Tilo Pirnbaum

Drums:

Rob Stringer
5 p.m. - 7 p.m.
Twin Frets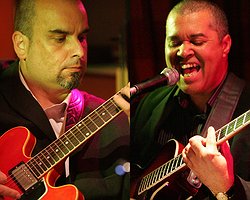 Willy Fluss & Vernon Fuller
An eclectic guitar/vocal duo with a mix of jazz standards to soul classics and a touch of reggae. A highly entertaining and talented pair of great musicians who made a big impression with their last appearance at Jazz on a Winter's Weekend 2013.
Music from 5.30 to 6.30 pm
8 p.m. - 10:30 p.m.
David Newton, Andrew Cleyndert & Colin Oxley play 'Out Of This World'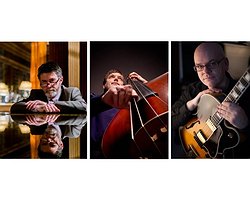 This concert brings together three of the best known and admired jazz musicians in the UK to play some tunes from their newly released album (Trio Records TR555) 'Out Of This World' which takes a mixture of lesser played standards, A.C. Jobim numbers and a few originals to create a well rounded, thoughtful and most of all swinging recording. Colin Oxley's intelligent soloing, driving edge and command of the rhythmic aspects of jazz guitar combine to make him a world class player. Andrew Cleyndert, with 30 years experi- ence with a myriad of groups, latterly with the late Stan Tracey's bands, is also the owner of Trio Re- cords which celebrates it's 15th birthday with the release of this album. David Newton, 11 times winner in the British Jazz Awards, a distinctive composer and most accomplished improviser, is a pianist of truly international standing. Together, 'Out Of This World' just about describes it.
Friday 1st August 2014 - Sunday 3rd August 2014
SMJ's first club gig after the Summer break will be Tommy Smith and Brian Kellock on Sunday September 21st (see below). However we have a surprise in store in early August. Something completely new. 
A jazz, blues and soul weekend in Southport's magnificent Victoria Park, the home of the world renowned Southport Flower Show. SMJ has joined forces with Southport Flower Show and local charity Queenscourt Hospice to create this new event which has ambition to develop into a more extended festival.
 Outdoor events (with adverse weather provision) will centre on the park's Victorian bandstand and the evening gala concerts will take place in one the Flower Show's huge marquees and will include table served meals. Camping, caravanning, picnicking, bar and catering facilities will be available plus free evening parking.
Friday 1st August 2014, 6:30 p.m.
Swingshift Big Band - Musical Director Phil Shotton with special guest vocalist AJ Brown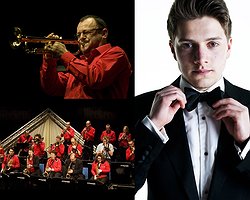 Gala Concert In The Big Marquee
A rising star vocalist/saxophonist who has appeared at The Blue Note New York, toured South Africa and played many leading clubs and Festivals (including Southport). AJ has 2 current CD's to his credit. His repertoire is wide ranging including some original tunes. If you like Michael Buble you'll love AJ Brown.
Enjoy a rich tapestry of sound from Swingshift Big Band like classics from the Ellington, Basie and Rich era as well as wonderful accompaniment for tonight's guest AJ Brown. swingshiftbigband.org.uk
Doors & bar 6.30 pm. Music, wining, dining and dancing 7.30 - 11.30 pm.
 Informal dress, tables of 10
Tickets:

£25 per person (includes hog roast supper)
Saturday 2nd August 2014, noon - 5:30 p.m.
On The Bandstand - Saturday
Mike Smith's Ginger Tunes
Sueyo Quartet
Vernon Fuller
The Angry Men
Tickets:

Park admission £2 per person or £5 per family of 4
Saturday 2nd August 2014, 6:30 p.m.
King Pleasure and The Biscuit Boys + Vernon Fuller's Soul Call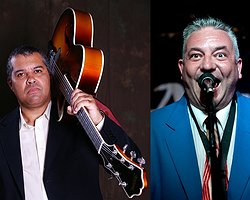 Gala Concert In The Big Marquee
One of the most popular jazz & swing bands in the world, made famous at Ronnie Scott's, performing classy numbers in Louis Jordan & Eddie Cleanhead style. A stunning range of instrumental ability and a guaranteed goodtime band. kingpleasure.co.uk
Well known Jazz, Soul & Blues guitarist and super smooth vocalist Vernon Fuller's Soul Call sextet revisits the fantastic music of the Stevie Wonder, Marvin Gaye, Bill Withers era with loads of energy and feel good factor that makes you want to stand up and party. vernonfuller.co.uk
Tickets:

£40 per person (includes 2 course dinner)
Sunday 3rd August 2014, noon - 5:30 p.m.
On The Bandstand - Sunday
Andy Chapman's 'ACV'
Quintet
909
Bluesband
The Weave
Zoe Gilby
Tickets:

Park admission £2 per person or £5 per family of 4