Welcome
Welcome to Southport Melodic Jazz Club's new website!
Jazz on a Winter's Weekend 2015
6th-8th Feb 2015
The 11th Jazz on a Winter's Weekend festival will take place on 6th-8th Feb Jan to 2nd Feb 2015 at The Royal Clifton Hotel Southport.
Upcoming Club Gigs
Sunday 21st June 2015
For a perfect jazz on a summer's day
Day ticket (to all events): £42, members £40
2 p.m. - 4:30 p.m.
Nicola Farnon Trio with Swingshift Big Band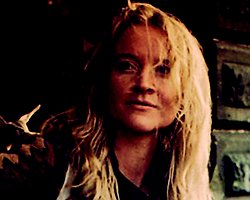 A winning combination of our own 'Swingshift' Big Band with the delightful, talented and nationally acclaimed Nicola Farnon. Nicola is not only a great vocalist and outstanding double bassist, she has the rare ability to do both at the same time! Wiltshire born, Sheffield based and from a musical dynasty including great uncle bandleader Robert Farnon, she has, with partner Phil Johnson and Canadian instrumentalist Piero Tucci, built a national reputation in the jazz world for highly entertaining, swinging jazz; With two new CD's out in 2014 - see www.nicolafarnon.com. You can look forward to a concert featuring the trio, the big band and a fascinating mix of both.
"Three n' Easy" and "A Day at the Market"
Bass and vocals:

Nicola Farnon

Keys and sax:

Piero Tucci

Drums:

Phil Johnson
Tickets:

£16

SMJC members:

£15
5 p.m. - 7 p.m.
Afternoon Tea with "Barbieshop"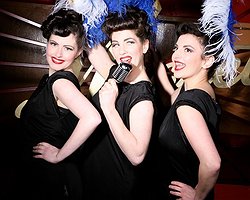 Making a first visit to SMJ - This Liverpool based female a cappella trio brings a whole new take on close harmony which the girls deliver with cute choreography, sweet smiles and appealing attire! They perform a variety of styles; from The Andrews Sisters to The Trashmen, Duke Ellington to Mary Poppins, Radiohead to Bizet.
in the Pavilion Restaurant (maximum 80 places)
Tickets:

£15 (includes high tea)
8 p.m. - 10:30 p.m.
Moonlight Saving Time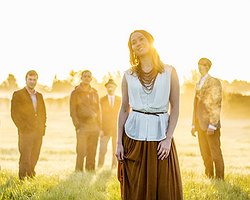 Another newcomer to SMJ, a wonderful band from Bristol which has been making waves on the jazz scene. Their CD Moonlight Saving Time has had great reviews - "The choice of tunes was refreshingly imaginative… This is music for the heart and the head, and on the strength of their sell-out performances at Brecon (where they had to be moved to a larger space) and Glastonbury, Moonlight Saving Time are ready – and surely deserve – to play at bigger venues soon." London Jazz News – Oxford Jazz Festival
Voice:

Emily Wright

Trumpet:

Nick Malcolm

Piano:

Dale Hambridge

Bass:

Will Harris

Drums:

Mark Whitlam
Tickets:

£15

SMJC members:

£14
Sunday 23rd August 2015, 8 p.m.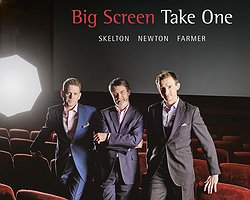 With TAKE ONE this supremely talented trio Big Screen have taken their inspiration from the movies to present their unique versions of nine much loved tunes. All the melodies here are timeless in their appeal and have benefitted from these finely tuned and exhilarating new interpretations. The album (Line Records) was issued in April and is the core of tonight's gig.
Claire Martin said '...stylish, swinging and sophisticated, this album is a complete knock-out'
Drums:

Matt Skelton

Piano:

David Newton

Double bass:

Tom Farmer
Tickets:

£14

SMJC members:

£13

NUS members:

£8
Sunday 20th September 2015, 8 p.m.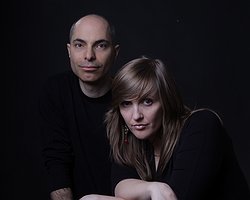 A fresh new collaboration between Israeli UK-resident drummer/composer Asaf Sirkis [ Lighthouse trio (ACT), Gilad Atzmon, Tim Garland, Larry Corryel, John Abercrombie & Asaf Sirkis trio] and Polish vocalist/composer Sylwia Bialas. 
With an emphasis on band interaction and sheer joy of playing, this band celebrates music from both collaborators, covering a wide range of influences such contemporary classical music, Polish folk, South Indian & Middle Eastern music as well as a wide range of dynamics – from the most delicate ballad all the way to high-energy electric virtuoso lines and everything in between. Expect soulful melodies, 'aerospheric' sounds with strong grooves ; full colour electro - acoustic jazz with an ethnic touch and some uncommonly used instruments and sound effects.
Recent album "Come To Me" available at www.asafsirkis.co.uk
Drums:

Asaf Sirkis

Vocals:

Sylwia Bialas

Piano + Keyboard:

Frank Harrison

Bass + Harmonica:

Patrick Bettison
Tickets:

£14

SMJC members:

£13

NUS members:

£8