Welcome
Welcome to Southport Melodic Jazz Club's new website!
Jazz on a Winter's Weekend 2014
31st Jan-2nd February 2014
The 10th Jazz on a Winter's Weekend festival will take place 31 Jan to 2nd Feb 2014 at The Royal Clifton Hotel Southport.
Please click here to see the full programme
We promise you another great weekend if international contemporary jazz with 11 concerts, exhibitions, workshops and exciting fringe events.
Weekender tickets go on sale to club members on July 1st and on general sale on August 1st.
For a look at our 2013 programme and reviews click here.
Upcoming Club Gigs
Sunday 15th December 2013
3 great gigs to wind up our 2013 season in a festive spirit
Day ticket (to all events) £44 members £42
2 p.m. - 4:30 p.m.
Ken Mathieson's Classic Jazz Orchestra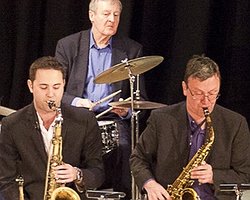 Ken Mathieson formed his 'CJO' in 2004 after an apprenticeship which included being "first-call" jazz drummer in Scotland, working with a positive Who's Who of top American and UK musicians - everyone from Bud Freeman to Sonny Stitt, Bobby Hackett to Art Farmer and legendary figures like Benny Carter, Buddy de Franco and Teddy Wilson. In 1987 Ken (then Director of the Glasgow International Jazz Festival) commissioned Benny Carter to write 'The Glasgow Suite' for the festival. He has since rearranged and recorded this with Alan Barnes (on the Woodville Records label). We heard this superb music at the Scarborough Jazz Festival in 2012 and it will form part of this concert.
Drums/leader/arranger:

Ken Mathieson

Piano:

Tom Finlay

Bass:

Roy Percy

Trumpet:

Billy Hunter

Trombone:

Phil O'Malley

Reeds:

Dick Lee. Konrad Wiszniewski, Martin Foster, Alan Barnes
Tickets:

£15

SMJC members:

£14
5 p.m. - 7 p.m.
AJ Brown sings with David Newton on piano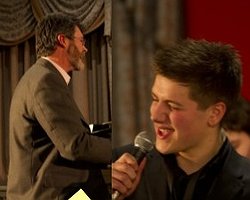 David is widely recognised as Britain's most accomplished jazz pianist and particularly so in the field of vocal accompaniment at which he excels. He joins AJ Brown, a young musician who is rapidly gaining a national reputation as a singer-songwriter. Today's gig will include some seasonal material as well as standards and AJ's own tunes. This Christmas carvery has become established as a club favourite event and has sold out for the last three years (limited to 80 diners) so please book early. Music from 6 to 7 pm.
Tickets:

£16 (includes 3 course Christmas carvery)
8:30 p.m. - 11 p.m.
Alan Barnes' Christmas Crackers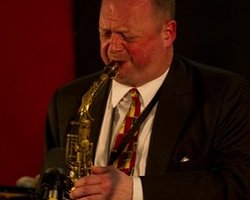 It's party time! With an invitation band led by Alan Barnes who has graced and enlivened our Christmas Special for several years. We are delighted to welcome Irish trumpeter/band leader and broadcaster Linley Hamilton to his first SMJ gig. Also fine young trombonist Simon Lodge who you will remember from the RNCM and 'Beats and Pieces' Big Bands. You can expect an eclectic mix of favourite tunes delivered with energy and enthusiasm with the support of this great rhythm section along with some exceptional soloing, plus a song or two from AJ Brown.
Leader/reeds:

Alan Barnes

Trumpet:

Linley Hamilton

Trombone:

Simon Lodge

Alto sax/voice:

AJ Brown

Piano:

David Newton

Bass:

Nick Blacka

Drums:

Dave Walsh
Tickets:

£15

SMJC members:

£14