Welcome
Welcome to Southport Melodic Jazz Club's new website!
Jazz on a Winter's Weekend 2016
5th-7th Feb 2016
The 12th Jazz on a Winter's Weekend festival will take place on 5th-7th Feb 2016 at The Royal Clifton Hotel Southport.
Click here for more information
Upcoming Club Gigs
Sunday 19th June 2016
all day ticket £40 (members £39)
2 p.m. - 4:30 p.m.
Cliff Ray Ensemble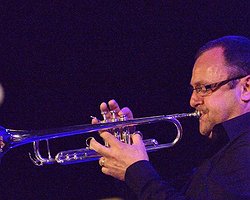 Southport's own superb trumpet star forsakes the big band stand and brings his newly formed piano-less sextet to the party. Expect some classy arrangements of favourite jazz tunes especially penned for this excellent ensemble.
Trumpet/Flugel:

Cliff Ray

Tenor Sax:

Mike Smith

Vibes:

Vidar Norhiem

Guitar:

tbc

Bass:

John Watkinson

Drums:

Mike McKay
Tickets:

£12

SMJC members:

£11
5 p.m. - 7 p.m.
Hulme - Ormesher Trio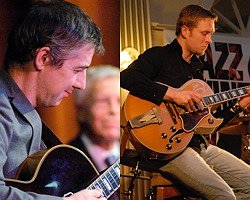 Jazz Buffet starts 5pm
Andy Hulme & Anthony Ormesher (guitars) with Ed Harrison (double bass) pool their considerable jazz talents for this special anniversay occasion.
8 p.m. - 10:30 p.m.
Alan, Gilad & The Lowest Common Denominator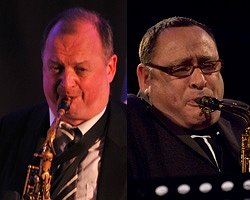 Alan Barnes and Gilad Atzmon, two of Britain's most celebrated virtuoso reed players, join forces to promise the ultimate jazz night in British history.
Despite their different backgrounds and approaches, the two men share a passion for performance and a firm belief that a jazz audience is there not to be educated but to be entertained. They also share a healthy sense of competition. Says Barnes: "I love our gladiatorial, or even 'Giladiatorial' exchanges; the music is lit by shafts of wit". Atzmon concurs: "I like few things better than playing a good set with Alan, and then shaking him warmly by the throat." An evening of humour and superb music by a hand-picked band of stars. There is CD is in the pipeline.
Alto, baritone saxes, clarinet:

Alan Barnes

Sop, alt, ten saxes, clari, accordion:

Gilad Atzmon

Piano and electronics:

Frank Harrison

Bass:

Yaron Stavi

Drums:

Chris Higginbottom
Tickets:

£16

SMJC members:

£15