Jazz on a Winter's Weekend 2012 - Programme
This content relates to a historical event in our Archive. It is preserved here for reference.
Friday 3rd February 2012 - Sunday 5th February 2012
Friday 3rd February 2012, 3 p.m. - 5 p.m.
Jazz Ex-Tempore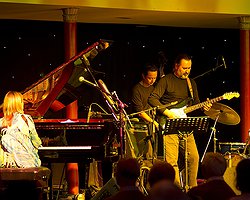 A truly cosmopolitan quartet which has toured Europe extensively. Featuring music written by the band members and led by British pianist and composer Andrea Vicari (pictured). Their CD 'Round Trip' has had excellent reviews. The music is eclectic, joyful, original, accessible and highly entertaining. We heard and thoroughly enjoyed the band at the Scarborough JF in 2010 and just couldn't imagine a better festival opener. www.andreavicari.com
Piano and leader:

Andrea Vicari

Guitar, harmonica and accordion:

Elvis Stanic

Bass:

Rico de Jeer

Drums:

Hristo Yotsov
Friday 3rd February 2012, 7 p.m. - 9:30 p.m.
Gareth Lockrane Big Band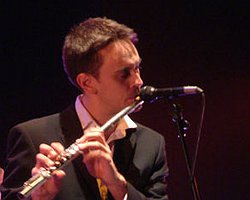 Gareth Lockrane is widely recognised as the UK's most outstanding jazz flautist. His compositional and arranging skills are of the same magnitude and these talents come together most demonstrably through the medium of this exceptional 18 piece big band. Originally formed in 2008 by Gareth, this star studied outfit performs, in the main, his own music and arrangements that can perhaps best be described as 'luscious'. The clincher gig that made the band a 'must have' for this festival was at The Spice Of Life in the 2010 London Jazz Festival. For more go to www.garethlockrane.com and you might find a short clip of the big band on YouTube.
Leader, flutes and piccolo:

Gareth Lockrane

Saxes:

Brandon Allen, Sam Mayne, Alex Garnett, Bob McCay, Nigel Hitchcock

Trumpets:

Steve Fishwick, Craig Wilde, Robbie Robson, Henry Collins

Trombones:

Mark Nightingale, Trevor Mires, Adrian Fry, Lewis Edney

Piano:

Ross Stanley

Guitar:

Mike Outram

Bass:

Ryan Trebilcock

Drums:

Tristan Maillot
Friday 3rd February 2012, 10:30 p.m.
Zoë Gilby Quintet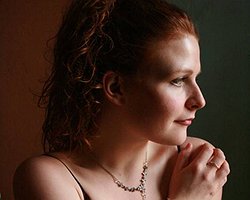 To round off the evening we bring you, from Tyneside, a really soulful singer with a very fine band. Zoe came to Southport in 2010 with bassist partner Andy Champion (of ACV fame) for a couple of duo gigs which hit the spot. She has since appeared at several top jazz venues including the Vortex (where she got a great review in JAZZ UK by Brian Blain), The Sage and Wakefield Jazz Club. There's a treat in store for our night owls tonight. For more go to www.zoegilby.co.uk
Voice:

Zoë Gilby

Trumpet and Flugel:

Noel Dennis

Guitar:

Mark Williams

Bass:

Andy Champion

Drums:

Richard Brown
Saturday 4th February 2012, 11 a.m. - 1 p.m.
Brandon Allen Sextet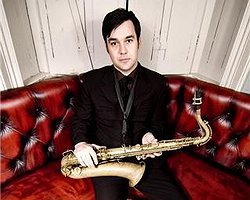 Brandon described his newly formed sextet as "---a new but exciting project that was a bit of an experiment which seems to have worked well---" The line-up speaks for itself. Surely one of the most talented and eagerly anticipated in recent years. All the players are well known individually to our audience, all at the top of their game. We got a breathless phone call from a regular who had just heard the band's first gig at The Bull's Head at Barnes. 'Unbelievable - You've got to book 'em! '. So we did.
Tenor and leader:

Brandon Allen

Alto:

Nigel Hitchcock

Trombone:

Mark Nightingale

Piano:

Ross Stanley

Bass:

Sam Burgess

Drums:

Ian Thomas
Saturday 4th February 2012, 2:30 p.m. - 5 p.m.
David Gazarov Trio
Munich based concert and jazz pianist David Gazarov made such an impression with our 2011 festival audience that a return visit was inevitable. Peter Vacher's review in 'Jazzwize' summed it up. "—further brilliance ensued with David Gazarov's imperious set. His keyboard mastery, inexhaustible creativity and driving swing made this onlooker think of Oscar Peterson---" And Peter wasn't alone in that respect. David's past track record speaks for itself with many European classical concerts and jazz performances [with a string of top stars including Johnny Griffin, Buddy de Franco] to his credit. UK born and now New York resident drummer Mark Taylor, having appeared on over 60 albums [and shared bandstands with a galaxy of US horn players including Benny Carter, Johnny Griffin, Lee Konitz, Chet Baker and Roy Hargrove and pianists Monty Alexander, Kenny Barron and Mose Allison], is taking time off from his current job with Toshiko Akiyoshi's trio and crossing the pond again to renew his acquaintance with David and his long standing friend and brilliant bassist Andrew Cleyndert . Andrew, probably best known for his countless appearances with Stan Tracey's bands, was instrumental, with the late Martin Drew, in introducing David Gazarov to the British jazz scene. We eagerly await the reunion of this fantastic trio which will be recorded.
Piano:

David Gazarov

Bass:

Andrew Cleyndert

Drums:

Mark Taylor
Saturday 4th February 2012, 7 p.m. - 9:30 p.m.
Alan Barnes "Dotty Blues" Nonet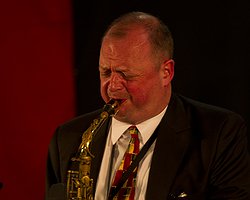 Alan Barnes has appeared at all 'Jazz on a Winter's Weekend' festivals since we began in 2005. (We are, for sure, not the only festival which can claim likewise). As well as his peerless musicianship and affable manner, his writing and arranging skills and boundless creative energy have ensured a succession of projects and recordings that have entertained and captivated jazz audiences. One of his early arranging gems was a 1998 Zephyr CD "A Dotty Blues" which contained 14 evergreen melodic classics, exquisitely arranged and played. Dave Gelley's sleeve notes were equally perceptive. One paragraph stands out. "The only thing a 16 piece band can do that an eight or nine can't is to put up a wall of sound. Paradoxically a small band can actually produce a greater range of sounds than a big one." These arrangements really prove that point. Those musicians appearing tonight who were on the original recording are Gerard Presencer, Mark Nightingale, Steve Brown and, of course, Alan himself!
Leader, clarinet, alto, baritone, bass clarinet:

Alan Barnes

Tenor/baritone/flute:

Alex Garnett

Tenor/clarinet:

Robert Fowler

Trumpet/flugel:

Gerard Presencer

Trombone:

Mark Nightingale

Vibes:

Jim Hart

Piano:

David Newton

Bass:

Andrew Cleyndert

Drums:

Steve Brown
Saturday 4th February 2012, 10:30 p.m.
Zoë Chiotis & Jamie Safiruddin Septet "The Genius of A.C. Jobim"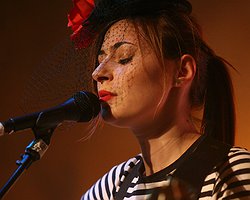 Brazilian composer, pianist and guitarist Antonio Carlos Jobim wrote the melodies to some of the 20th century's most cherished songs. In collaboration with João and Astrud Gilberto he was instrumental in creating and popularising the samba derived 'Bossa Nova' rhythm which, through the recordings made with Stan Getz and Charlie Byrd and others, was adopted by and still flourishes within the jazz world. 'Desafinado' and 'Girl From Ipanema' topped the pop charts in the UK and America in the early 60's. Tonight's concert by this Manchester based group of highly talented musicians will explore and improvise around Jobim's legacy of beautiful melodies and rhythms. Zoë will sing, as well as the popularised English lyrics by Ray Gilbert, Gene Lees and Norman Gimbel, some of the original and infinitely more poetic Portuguese originals Jobim wrote in collaboration with Newton Mendonςa and Vinicius de Moraes.
Voice:

Zoë Chiotis

Piano:

Jamie Safiruddin

Tenor:

Sam Rapley

Acoustic guitar:

Jim Wallace

Bass:

Frank Grime

Drums:

Rick Weedon

Percussion:

Chris Crooks
Sunday 5th February 2012, 11 a.m. - 1 p.m.
The Birmingham Conservatoire Jazz Orchestra
Sketches of Spain
An integral part of Birmingham City University, the Conservatoire celebrated its 125th anniversary in 2011. It is located in the heart of the city. It educates and trains musicians to the highest standards in solo performance, composition, chamber music, orchestral playing and has a very strong jazz faculty with an international reputation. This concert came about after we heard a brilliant rendition of the Ellington/Strayhorn arrangements of Tchaikosky's Nutcracker Suite by the BCJO at the Conservatoire's 2011 Prize-Giving Day concert. We look forward to welcoming the orchestra to Southport for their first appearance at this festival
Director:

Jeremy Price

Trumpet:

Percy Purseglove
Sunday 5th February 2012, 2:30 p.m. - 5 p.m.
Gerard Presencer and John Taylor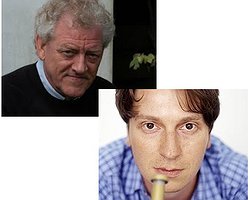 We are delighted to be able to bring together two of Europe's most respected and brilliant jazz soloists for a first ever UK duet performance which follows a recent highly acclaimed concert in Copenhagen. Gerard Presencer is widely regarded as one of the finest trumpet players in the world. Having established himself as a soloist, studio musician and session player, he has received critical acclaim for his 3 solo albums. He has recorded with many leading artists across different musical genres including Sting, Robbie Williams, Ray Charles, Herbie Hancock, Joni Mitchell and Chick Corea. He has played and arranged for a variety of performers including Charlie Watts, Incognito, Zero7 and Will Young. Gerard was Head of Jazz at London's Royal Academy of Music 1999-2010. He is currently Head of Brass at The Jazz Institute Berlin and has also recently been appointed trumpet soloist for the Danish Radio Big Band for whom he also arranges and sometimes conducts. John Taylor first came to prominence as a remarkably talented jazz pianist in the 1970's when working as leader or sidesman in noted bands like Azimuth and Peter Erskine's Trio and in collaborations with Jan Garbarek, Lee Konitz, Mark Feldman and many others. In the last 10 years he has achieved recording success with his present trio (featuring Palle Danielsson and Martin France) which recently also recorded with saxophonist Julian Argüelles. He has also played (and recorded) solo performances in Europe, Australia, USA and Canada as well as duet concerts with Kenny Wheeler and Italian vocalist Diana Torto which included commissioned arrangements for the WDR Big Band. He was Lecturer in Jazz at York University until 2010.
Trumpet:

Gerard Presencer

Piano:

John Taylor
Sunday 5th February 2012, 7:30 p.m. - 9:45 p.m.
Introducing Greg Abate's "In The Moment" Quintet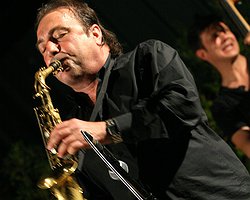 Greg has been a regular summer visitor to these shores in recent years and has played several clubs and festivals with local trios. His recent UK recording with Alan Barnes (Birds Of A Feather – Woodville) has confirmed his standing to the UK audience as an outstanding bebop player, a reputation that was already well established in The USA. This is Greg's first UK appearance as bandleader and this 'In The Moment' US-Italian quintet has been created by him specifically for this festival. Expect a sensational hard driving post bop style from this truly international band. Here's a very brief CV of the band members. There's a mass of information on all of them via Google.
Greg Abate Resident of Coventry, Rhode Island, New England USA. Graduate of Berklee College of Music. Ray Charles Orchestra/ lead alto. Dick Johnson-Artie Shaw band/ tenor. Toured with Tony Bennett, Mel Tormé, Vic Damone. Played with Red Rodney, Kenny Barron, Elvin Jones, Hank Jones, Rufus Reed, Alan Barnes, Pete King.
Jim Rotondi From Bute Montana USA now resident Graz Austria. Graduate of University of North Texas S of M. Ray Charles, Lionel Hampton, Bob Mintzer, Toshiko Akiyoshi big bands. Small groups of Charles Earland, Lou Donaldson, Curtis Fuller, Joe Chambers. Leads two groups and splits his time between New York and Austria where he is Prof. at Graz University of Music and Dramatic Arts.
Dado Moroni Resident Genoa Italy. Self taught pianist. 35 year career in Europe and USA. Moved to New York in 1991. Played and recorded extensively including Freddie Hubbard, Clark Terry, Zoot Sims, Harry 'Sweets' Edison, Ray Brown, Ron Carter, Hank Jones, Ahmed Jamal.
Harvie S A legendary New York bassist who has performed and recorded with Stan Getz, Chet Baker, Dexter Gordon, Art Farmer, Lee Konitz, Zoot Sims, Chick Corea and more than space to mention. His 2008 CD with Kenny Barron (Now Was The Time on High Note) topped the Jazz Week charts for 5 months. Harvie has been Professor of Bass at Manhattan School of Music since 1984.
Enzo Zirilli Born Turin Italy. Plays in a variety of styles – jazz, world and pop. Worked mainly in Europe from 1989 to 2003 where he played with the likes of Dado Moroni, Enrico Pieranunzi, Rosario Giulari and US visitors including Eddie Henderson, James Moody and Randy Brecker. Moved to London in 2004 and joined the UK jazz scene, playing with Pete King, Bobby Wellins, Gilad Atzmon, Alex Hutton, Brandon Allen and many more. Has his own trio Scenario.
Alto and flute:

Greg Abate

Trumpet and flugel:

Jim Rotondi

Piano:

Dado Moroni

Bass:

Harvie S

Drums:

Enzo Zirilli
Sunday 5th February 2012, 10:30 p.m.
Jim Mullen Reunion Quartet
Our festival closer is something a bit special. Jim Mullen is recognised as a world class guitarist with a string of credits, including long working relationships with the late Dick Morrissey and more recently Clare Martin. His own Organ Trio is one of the UK's outstanding jazz groups. This quartet worked and recorded five CD's together from 1996 to 2002. It was one of the most powerful ever to appear on the British jazz scene. The members have each worked with a huge array of musicians in the international jazz world and other music spheres. This is the opening gig of a one-off reunion tour which includes 3 nights at Ronnie Scott's. The band will play some brand new material and also some tunes featured on past recordings. We do believe in Jazz on a Winter's Weekend concluding on a high note and it doesn't get much higher than this!
Guitar:

Jim Mullen

Piano:

Gareth Williams

Double bass:

Mick Hutton

Drums:

Gary Husband