Jazz on a Winter's Weekend 2015 - Programme
This content relates to a historical event in our Archive. It is preserved here for reference.
Friday 6th February 2015 - Sunday 8th February 2015
Friday 6th February 2015, 2:30 p.m. - 4:30 p.m.
Jam Experiment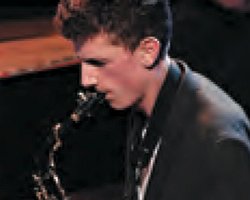 We had the pleasure of catching this young, dynamic and precociously talented band almost by accident at Wakefield Jazz Club last April where Chris de Saram had invited them to do a 'warm -up' session prior to a Liane Carroll gig. Emanating from and still studying at Manchester's Chetham's School of Music, these young musicians excelled themselves and were truly impressive. This was before the official (impossible to contain!) announcement that their saxophonist Alexander Bone had been awarded the enviable accolade of the first ever "BBC Young Jazz Musician of The Year" and the razzamatazz of TV, radio and press coverage that followed. On that night at Wakefield we knew these guys just had to fill our festival opener. The decision was reinforced and fully justified in July at Leeds College of Music when the band was selected by a panel of pro musicians and festival promoters (including ours!) from a very strong competitive field for the "Jazz North Introduces" 2014 award. The phrase that 'the future of jazz is in good hands' could well have been coined for Jam Experiment.
The band will be introduced on behalf of Jazz North by Miss Jo McCallum who is the project manager of 'Jazz North Introduces' 2014.
Saxophones:

Alexander Bone

Trombone:

Rory Ingham

Piano:

Toby Comeau

Double bass:

Sam Quintana

Drums:

Oren McLoughlin
Friday 6th February 2015, 7 p.m. - 9:45 p.m.
Alan Barnes - David Newton Septet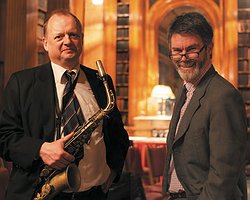 "Here's one of my originals"
From a coincidental music education on the Leeds College of Music jazz course, Alan Barnes and David Newton have shared countless gigs, many recordings, won a host of jazz awards and established individual careers and international reputations at the very top of the jazz profession. Not only as superb instrumentalists and improvisers but also as composers. This concert focuses on some of their original compositions with new arrangements written for the festival, including a new tune cooperatively penned for the event. They bring five of the UK's best established, technically brilliant and supremely creative musicians to interpret their own tunes.
Reeds:

Alan Barnes

Piano:

David Newton

Reeds:

Robert Fowler

Trumpet:

Martin Shaw

Saxes:

Derek Nash

Double bass:

Andrew Cleyndert

Drums:

Steve Brown
Friday 6th February 2015, 10:30 p.m.
Theo Jackson Quartet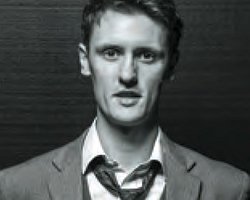 While his heart belongs to jazz, Theo Jackson's soul lies in music which has the ability to cross boundaries and genres. He has signed a publishing deal for his original lyrics to be set to Scott Lafaro's 'Gloria's Step' and is currently setting lyrics to a tune by Wayne Shorter.
In early 2015 Theo will be making his first release for US label Dot Time Records. Together with award-winning saxophonist Nathaniel Facey, Theo has appeared at Cheltenham Jazz Festival, EFG London Jazz Festival and Love Supreme Jazz Festival. He has also toured New Zealand opening for the bandleader, saxophonist and composer Bob Mintzer. He is a regular at The 606.
There are a whole bunch of press quotes but the one that impressed was from LONDONJAZZ :-
"Vocalist Theo Jackson leads his band from the piano, with a confidence and assurance that comes from being a true musician, and the trust and knowledge that the other guys on the stand are too."
Voice/piano:

Theo Jackson

Alto sax:

Nathaniel Facey

Double bass:

Gordon Huntley

Drums:

Marco Quarantatto
Saturday 7th February 2015, 11 a.m. - 1 p.m.
Jump Monk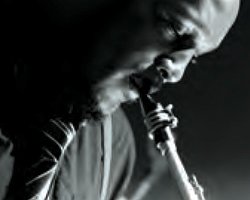 This group formed in 2013 to play in the now legendary Birmingham "Monkathon". A week long celebration of the complete writings of pianist Thelonius Monk, one of the most creative and influential jazz musicians in the history of the music. The project was a huge success and the band collectively decided that this was too good to let go and, later, for good measure, chose to tag on some of the music of that other odd ball creative genius, bassist Charles Mingus. The juxtaposition of the music of these two truly original spirits provides the perfect platform for this quintet of outstanding and respected players to let rip.
Alto sax:

Tony Kofi

Trombone:

Jeremy Price

Piano:

Liam Noble

Bass:

Arnie Somoygi

Drums:

Clark Tracey
Saturday 7th February 2015, 2:30 p.m. - 4:30 p.m.
Marius Neset and Daniel Herskedal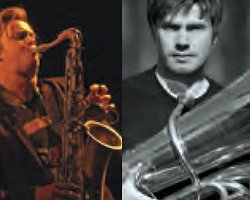 "And now for something completely different"
Marius Neset's gig with his 'Golden Explosion' quartet at this festival in 2013 caused quite a stir. Contrary to his own nervously expressed pre gig reservation that 'my music may be a little heavy for your audience', the band got a standing ovation in both sets. John Fordham's review prediction that Marius was bound for jazz world stardom was close to the mark. Now aged 29 he has a string of dates across Europe and Scandinavia including work with the Trondheim Jazz Orchestra. When we saw his name pop up at the last Sage Gateshead Jazz Festival a visit was a no-brainer.
The short duet set with fellow Norwegian Daniel Herskedal on tuba playing tunes from their "Neck Of The Woods" album was yet another eye opener. Something completely and beautifully different in fact. Marius and Daniel (age 32) met whilst studying at Copenhagen Rhythmic Music College and both played in the college orchestra under the tutelage of Django Bates. Following graduation from Trondheim Conservatoire jazz course, Herskedal got his masters degree at Copenhagen and now plays freelance in several different bands. Both these musicians have an amazing fluency and mastery of their instruments and share a most rare skill as composers and arrangers.
Saxophones:

Marius Neset

Tuba:

Daniel Herskedal
Saturday 7th February 2015, 7:30 p.m. - 10 p.m.
Dmitry Baevsky Quintet featuring Joe "Mags" Magnarelli
After qualifying at Musorgsky college aged 19, Dmitry moved to New York to take up a scholarship at New School University. He is now a regular on the New York jazz scene and is acknowledged as a rising star of the alto sax with 3 albums under his belt and a growing reputation both sides of the pond. He gigs regularly with Joe Magnarelli who has been on the New York scene since 1986, has recorded 9 albums and also currently teaches at Juilliard and Rutgers. When touring in Europe this dynamic bebop duo use the superb rhythm section on this gig. Alain Jean-Marie is quoted in several sources as being France's finest jazz pianist who played in the 1970/80's with a host of touring US stars (Chet Baker, Sonny Stitt, Johnny Griffin, Clark Terry) and Giorgos Antoniou has an equally impressive CV. Many thanks to Steve Brown for helping to get this together via Dmitry's French European agent. Also to Keith and Dave from Swindon who whetted the appetite via their CD film of Dmitry's band at the Marciac Festival.
Alto sax:

Dmitry Baevsky (Russia - St Petersburg/New York)

Trumpet:

Joe Magnarelli (USA- Syracuse/New York)

Piano:

Alain Jean-Marie (Guadeloupe/France-Paris)

Bass:

Giorgos Antoniou (Greece - Athens/Switzerland)

Drums:

Steve Brown (England)
Saturday 7th February 2015, 11 p.m.
Mainstreet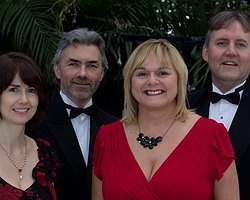 Close harmony vocal quartet bringing the classic sounds of groups such as The Four Freshmen, The Hi-Los and The Polka-Dots to a contemporary audience and adding in their own arrangements of present day groups like New York Voices and The Manhattan Transfer. Formed in 1986 by Steve Holt and Eddie Evans, the quartet now includes Sue Hughes and Pam Thompson. Accompanying them will be Tim Lapthorne (piano), Dave Lynane (bass) and Dave Hassell (drums).
This is a change to the printed programme as VIVE have recently announced their disbandment.
Sunday 8th February 2015, 11 a.m. - 1 p.m.
Josh Kemp Quartet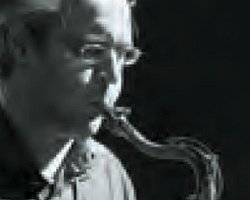 Saxophonist and Composer Josh Kemp comes to Southport Jazz Festival fresh from a 30-date Jazz Services tour, gaining many plaudits for his melodic improvising style and attractive compositions along the way. His quartet, featuring the heavyweight rhythm section of Mick Hutton, Tim Lapthorn, and Matt Skelton, will perform material from his latest album Tone Poetry '****' JazzWise Magazine, 'a mix of Stan Getzian breeziness and Coltrane's imploring cry.' John Fordham, The Guardian.
We are delighted to welcome Josh for his first visit to this festival. Sounding equally impressive playing within the jazz standards tradition and also presenting his own original compositions, Josh studied at London's Guildhall and Trinity Colleges of Music. He is a regular performer at jazz clubs and festivals across the UK, with recent performances at Ronnie Scott's and the London Jazz Festival. Other projects include an Organ Trio with Pete Whittaker, and work with the E17 Jazz Collective, as well as a 'day job' as house musician in London's Savoy and Dorchester Hotels.
Josh will also be holding a masterclass this afternoon 3.30 pm (see Fringe Programme).
Saxophones:

Josh Kemp

Piano:

Tim Lapthorn

Bass:

Mick Hutton

Drums:

Matt Skelton
Sunday 8th February 2015, 2:45 p.m. - 5 p.m.
The Birmingham Conservatoire Jazz Orchestra plays the music of Bob Brookmeyer, Jim McNeely & Maria Schneider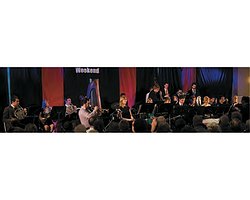 The musical output of these three central luminaries of Big Band composition from the US are a benchmark for all jazz composers today. They simultaneously look back to the origins of large ensemble writing in jazz, encapsulating the essence of swing and blues a la Ellington, Basie and Thad Jones, while striving to look ahead through innovative orchestrations and expanded forms. This highly challenging repertoire is written for hand picked musicians at the fore-front of the contemporary New York jazz scene, so it will be a thrilling concert to see how young aspiring musicians from the Birmingham Conservatoire deal with the material. The BCJO's last appearance here in 2012 (pictured-Gil Evans Sketches od Spain) was a triumph. We are delighted to welcome them back.
Musical director:

Jeremy Price
Sunday 8th February 2015, 7:30 p.m. - 10 p.m.
Pete Long's "Jazz at the Phil"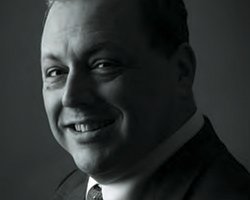 With this stupendous line-up, what are we in for here? Firstly some top notch clarinet playing and band stand humour from Leader Pete Long whose biography clearly marks him down as purveyor of music to the rich and famous, participator in bands pop and jazz at the highest level and big band leader and arranger par excellence . The clue to the humour is illustrated by an opening line on his early career.
 "It began fairly inauspiciously at the age of 18 deep down in the bowels of the Natwest Bank in Marble Arch putting statements into envelopes. An unfortunate incident involving a picture of a lady and a horse being accidentally set to the Convent of the Sacred Heart along with their financial statements led to a rethink!
 What of the music? Clearly Pete is a master assembler of big band talent - witness the auspicious line-up. His own pitch best sums up the style.
"It's organised in the same way as the classic JATP performance of the early 1950's, six blowers going for the jugular at all times. All the JATP hallmarks are there ; no solo longer than 3 chorus's ; loads of riffing and trading ; trumpet dual in the first set with top A's bouncing off the walls ; second set includes a Buddy Rich type drum routine where the bass drum never budges off 4-on-the-floor pattern ; a high energy rhythm section keeps everything bouncing along and the whole set is geared to make the audience go wild."
Are you ready for this?!
Leader/arranger/clarinet:

Pete Long

Trumpets:

Ryan Quigley & George Hogg

Trombone:

Callum Au

Tenor saxes:

Dean Masser & Alex Garnett

Guitar:

Nigel Price

Piano:

Nick Dawson

Bass:

Paul Morgan

Drums:

Ed Richardson
Sunday 8th February 2015, 10:30 p.m.
The Alan Benzie Trio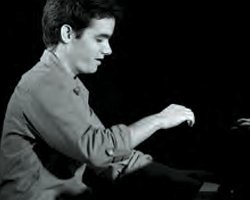 We were first introduced to Alan Benzie at an IAJE conference in New York whilst he was still studying at Berklee College. There from his native Glasgow by virtue of his talent on an all in scholarship, he graduated with honours and was also given the Billboard Magazine Award - the first time it had gone to a non American musician. En route he won the Scottish Young Jazz Pianist award and has already come runner up in the Scottish Jazz Awards-pianist of the year. He is now fully professional, has assembled this very fine trio, toured Japan and played our jazz club twice. 
His original writing is beautifully descriptive-almost story telling. If you like your jazz piano in the Bill Evans mode you'll just love this.
Introducting Gordon Vernick - 11.35 pm until late
.
American trumpeter Dr Gordon Vernick is an associate professor of music and coordinator of jazz studies at Georgia State University. He holds a Bachelor of Music from Ithaca College, Ithaca, NY; a Master of Music in Education from the University of Miami; and a Doctor of Arts from the University of Northern Colorado, Greeley. As a professional trumpet player, he has performed in musical mediums from symphony orchestra to jazz quartet and has freelanced all over the world.
Gordon will join the Alan Benzie Trio for the second set for an altogether different mood for the final piece of the 2015 festival.
Piano:

Alan Benzie

Bass:

Andy Robb

Drums:

Martin Juasz