Jazz on a Winter's Weekend 2015 - Reviews
This content relates to a historical event in our Archive. It is preserved here for reference.
Jazz on a Winter's Weekend 2015, 6th-8th Feb 2015
With photography by Robert Burns
Peter Vacher
For a brief moment, this well-established weekend of jazz at Southport's Royal Clifton Hotel had looked to be in jeopardy, stymied by the need for new blood on the organising committee and the lack of same. Happily, rescue was at hand and in no time at all, everything was once again up and running. Good news for the sell-out crowd this year and for those of us who relish organiser Geoff Mathews' record for picking bands and performers that one is unlikely to hear elsewhere.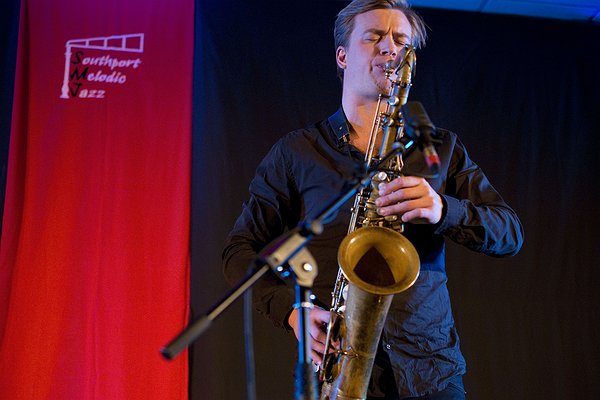 Along with international soloists and up-from-London star turns there's always room at this hotel-based festival for local performers and young emerging players. Jam Experiment and the Birmingham Conservatoire Jazz Orchestra [of whom more later] carried the flag for youth this time while the invigorating Main Street vocal quartet with veterans Dave Lynane on bass and the very authoritativeDave Hassell on drums represented the north. Theirs was a late night session, more mellow than most, with some well-worked replications of the Hi-Los, the Four Freshmen et al. All clever stuff, and made more so by the creativity of supporting pianist Tim Lapthorne.
Jam Experiment, a student-based group hailing from Manchester, boasted the presence of altoistAlexander Bone, the BBC's Young Jazz Musician of the Year, and earned all sorts of spurs with their set. Bone is an increasingly authoritative player, with a cool Desmond-ish alto sound, even making good on the dreaded EWI, who can write decent originals. Bassist Sam Quintana and pianist Toby Comeaualso impressed. Next up was the ever-popular Alan Barnes/David Newton Septet, re-visiting their own compositions with a three-sax plus trumpet line-up, which included the happy presence of Derek Nashon baritone and tenor.
On this hearing, Newton's way with a tune is worthy of praise, his Scotch Blues redolent of his Caledonian roots, the pianist's sparky keyboard touch a fine reminder of his grace under pressure, with Nash's rousing choruses another standout. Of the promised special festival composition, there was no sign. Late on, the engaging pianist/singer Theo Jackson had to make do with a makeshift band, this apparent dilemma resolving itself surprisingly well with tenorist Binker Golding responding brightly, Jackson's expert pianisms a pleasure to observe.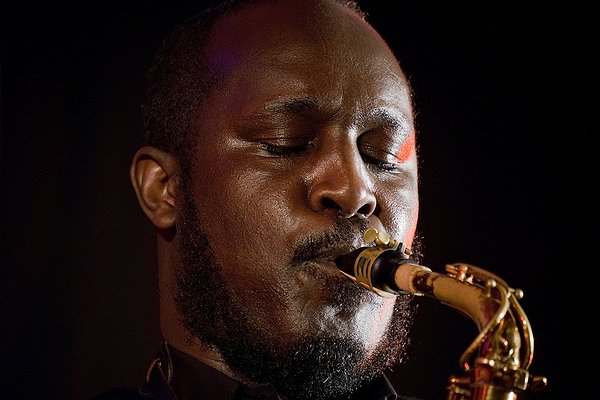 Day two brought more rewards with Jump Monk, this led from the back by the Arnie Somogyi, a bassist who doesn't just mark time but makes it sing, urging his fellows on in the most vital way on an array of Monk's tunes [with extra Mingus] aided by Clark Tracy and the ever adroit pianist Liam Noble.Add in Jeremy Price's trombone and the searing alto of Tony Kofi (above), with his flamethrower tone and vehement attack and you have music of real consequence. Haitian Fight Song had it.
Then came the initially puzzling duo of Marius Neset's tenor (pictured top) and soprano saxophone with tuba virtuoso Daniel Herskedal. How could this pared-down ensemble work? Well, by allowing Neset to dip into his fecund imagination, his ethereal, folk-like sounds balanced by sudden, raucous eruptions, these much aided by the didgeridoo-like rumbles from his chum. A betting man might have laid odds on a muted response to this novel music, but the reaction from this open-minded audience was wholly appreciative. The reaction to the Dimitry Baevsky Quintet with US trumpeter Joe Magnarelli that followed was more guarded, divided between those who revelled in this one-off group's hard-bop mannerisms and others who found the format all too predictable with the expected fireworks from top brassman Magnarelli largely missing. Still, there was nothing but praise for the diminutive Baevsky, a Russian altoist based in New York, whose command of the idiom pleased everyone.
Lower-key perhaps, Josh Kemp's quartet also opened some eyes, mine in particular, this fine tenor saxophonist fusing disparate influences to create improvisations that breathed extra life into his intriguing originals. Still, with Tim Lapthorne bounding about the keyboard, the bass precision of Mike Hutton and the drive of drummer Mat Skelton how could Kemp go wrong?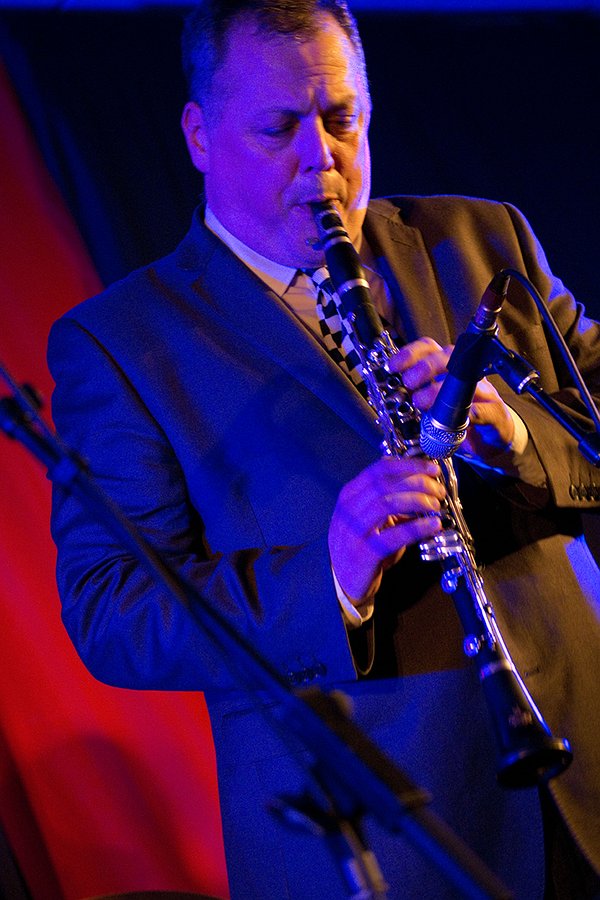 The aforementioned BCJO directed by Head of Jazz,Jeremy Price, offered a demanding programme of pieces by Bob Brookmeyer, Jim McNeely and Maria Schneider, these generally pulled off well, with soloists Claude Pietersen on tenor, trumpeter Sean Gibbs and guitarist Gareth Fowlerthe names to watch. In a festival programme suffused with variety, it was Pete Long's 'Jazz At The Phil' last-burst concert that set out to thrill with its expected no-holds-barred approach. And lo, reader, that is what happened, the audience rapturous with some prompted to stand for the final ovation.

Pianist Nick Dawson, guitarist Nigel Price and bassist Paul Morgan kicked off with Tenderly, drummer Ed Richardsonsoon alongside, with a massed front-line of trumpeters George Hogg and Ryan Quigley, trombonistCallum Au, tenorists Alex Garnett and Dean Masser, Long on clarinet and cheerleading. They jousted, they riffed, with Hogg and Quigley playing high-note chase while Garnett and Masser traded blows, high-revving on the final Lester Leaps In, Au similarly impressive, the rhythm section like a bludgeon, the swing palpable and hugely uplifting. Cue mass appreciation and smiles all round. Well done, Long, but very well done Southport, once more.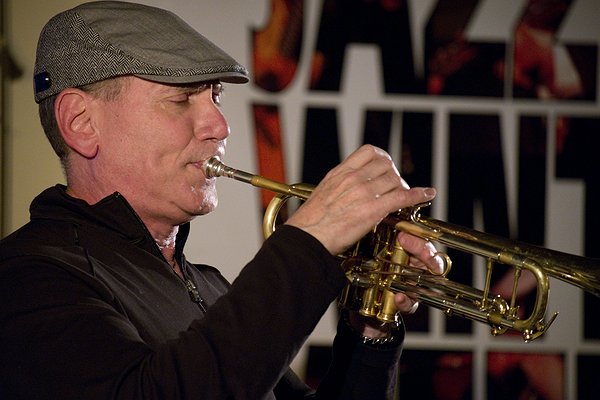 Ron Simpson
Like Mark Twain's death reports of the demise of the Southport Jazz Weekend were exaggerated. In the end it was business as usual: the format works, so why change it? The Royal Clifton, with its variety of public spaces, is ideal for a festival that has ongoing art exhibitions, workshops, talks and informal music sessions in support of the eleven main concerts from Friday afternoon to late night Sunday.
The concerts themselves, as always, took in everything from tried and tested festival favourites (a new chunk of the collected works of Alan Barnes is obligatory) to the experimental, the seldom seen and the specially assembled. The feeling was that this year there was perhaps a heavier concentration of straightahead, small group jazz than usual, but there were still surprises and opportunities for emerging musicians.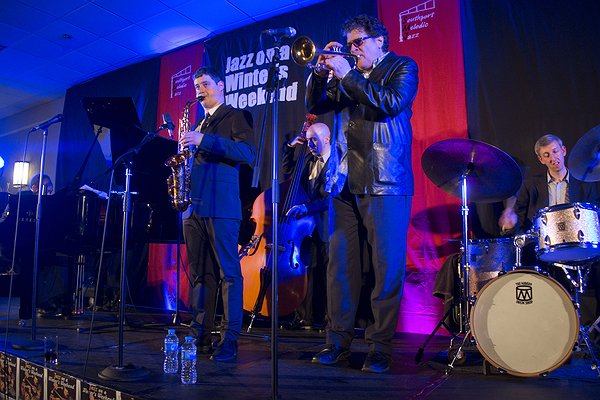 The final evening provided a highlight for all those given to the exuberant side of jazz. This was the first regular concert appearance for Pete Long's Jazz at the Phil and both Pete and festival director Geoff Matthews seemed concerned about whether the audience would take to it – unnecessary! JATP was always controversial (in their day words like Roy Eldridge and Illinois Jacquet were akin to expletives to the po-faced establishment), but audiences never had a problem. Under Pete Long's ebullient direction, the 2015 British version kept up the traditions, from Nick Dawson's Peterson-esque Tenderly to the riotous concluding Lester Leaps In. The trumpet duel was in the best of bad taste, with George Hogg matching the bravura playing of the splendid Ryan Quigley. Callum Au confirmed his place in the forefront of younger trombonists by blasting into his opening solo like Bill Harris reincarnated and later contributed some characterful muted work. When the tempo dropped and melody appeared, the three reeds (Alex Garner, Dean Masser and Pete himself) did justice to a trio of Ellington ballads and Paul Morgan rounded off a festival full of fine bassists with a persuasively melodic In a Sentimental Mood accompanied only by Nigel Price's sensitive guitar. But for the most part it was high-octane stuff, as with the extended and very loud drum feature by a remarkable young player, previously completely unknown to me, Ed Richardson. In a totally enjoyable two hours I was especially impressed by the rhythm section: after all, with strings of solos and features, the horns had time to recoup their energies before the next battle or assault on the stratosphere, but not so Messrs. Dawson, Price, Morgan and Richardson, swinging, ever-resourceful, sometimes subtle and always beautifully integrated.
I guess the most keenly anticipated event was the Saturday evening concert, with young alto-saxist Dmitry Baevsky, Russian-born, New York-based, leading a truly international quintet assembled for the occasion. Trumpeter Joe Magnarelli is these days regarded with something approaching awe and the French/Greek/British rhythm section of Alain Jean-Marie, Giorgos Antoniou and Steve Brown promised much. In the end it was perhaps a little predictable, with Magnarelli playing well, but not tearing up any trees, and Jean-Marie, clearly an excellent player, taking time to make his mark. The tunes – Sonny Rollins, Art Blakey, etc. – were obvious choices and it was probably no coincidence that the final number of the first half, If Ever I Should Leave You, the first off-the-wall choice, was also the first to truly excite the audience. But Baevsky is a terrific player, equally adept on ballads, of which there were not enough, and Magnarelli's delighted reactions to Steve Brown's drumming were shared by the audience.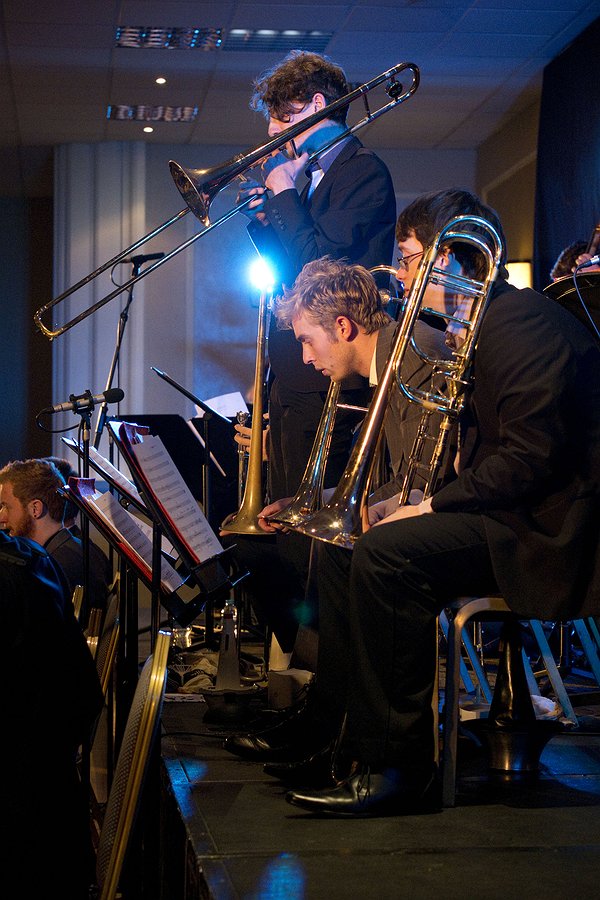 A not dissimilar group earlier in the day had, in fact, more bite. Jump Monk was assembled for the 2013 Birmingham Monkathon and included Birmingham Conservatoire's Jeremy Price on trombone. Under the leadership of Arnie Somogyi and now combining Monk and Mingus compositions, the band had real attack: the sheer presence of the ensemble sound on the opener, Haitian Fight Song, made me also jot down a note praising the sound man. And Tony Kofi's playing was outstanding throughout. Between the two quintet sessions came the only concert to strongly divide audience opinion – and certainly the most experimental of the weekend. The Norwegians Marius Neset and Daniel Herskedal duetted on saxes and tuba, playing their own compositions and Norwegian folk songs. The range of effects Herskedal produced from the tuba included playing a drone to his own melody line and Neset was a creative and inventive soloist, but I could understand the reaction of those who looked in vain for jazz content. My attention sometimes wandered during two full sets, but I loved the chorale-like passages and the typically Scandinavian sense of space between soaring soprano and sonorous tuba – and it was certainly canny programming to put Neset and Herskedal in as contrast between the quintets.
The Barnes session this time was a sort of joint musical biography of his 38 years of friendship and frequent collaboration with Dave Newton. Typically they had assembled a fine septet, with the polished Martin Shaw immaculate on trumpet and a nice contrast between the tenor/baritone players Derek Nash and Robert Fowler. The understanding between the two principals was never better seen than on The Hawk, with Alan on clarinet trading fours with Dave's piano. Much of the material was familiar, but dividing it between Barnes and Newton compositions gave enough variety and it was good to hear how well Blue Note, one of Barnes' songs to words by the late Alan Plater, fared as an instrumental.
Among the late night shows pianist/singer/composer Theo Jackson coped well with having to replace his entire quartet: a confident singer of some range, as a pianist he led an accomplished group, with Binker Golding excelling as a late replacement for Nat Facey. There were too many good trios and quartets to mention all and the Birmingham Conservatoire Jazz Orchestra under Jeremy Price, the solitary big band, played the music of Bob Brookmeyer, Jim McNeely and Maria Schneider with discipline and skill, polished section work and some very decent solos (including a notable contribution from guitarist Gareth Fowler on El Viento).