Historical Archive
This page contains reviews of historical gigs from our previous website. It is preserved here for reference.
Reviews of gigs from January 2002
THE DAVID NEWTON TRIO WITH ALAN BARNES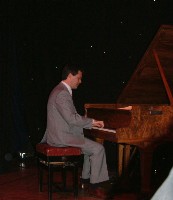 A well attended first gig of 2002 at Southport Arts Centre (Jan 27th) featuring The David
Newton Trio with Alan Barnes
- their first visit to Southport. Alan confided that his parents used to bring him to Southport for days out from their Altrincham home town and he had also played at the Southport Theatre with the Humphrey Lyttelton band in the early '90's.
The session kicked off with an Alan Barnes original composition
"Woodville"
(named after Lester Young's home town). This group's empathy and mutual understanding was obvious from the start and continued with a baritone lead rendition of Rogers and Hart's
"Manhattan",
from the quartet's award winning C.D.
Al Cohn's
"The Goof and I"
was followed by a rhumba rhythm version of
"No moon at
all".
Bassist
Matt Miles
and drummer
Steve Brown
took a break whilst David and Alan featured two interesting clarinet /piano duets from their "Summertime" C.D. The evocative
"Bluebird of Delhi"
(complete with mynah bird call) and
"Charlie the Chulo".
These descriptive pieces were really appeciated and the quartet wound up the first half with Alan on alto tearing through Art Pepper's "Chilli Pepper" (based on the chords from
"Tea For Two
"). David, Matt and Steve built up an incredible tension and swing through this very fast piece and Alan proved yet again his complete creative mastery of the alto.
Alan is a great fan of baritone saxist Gerry Mulligan and opened the second half with three of his compositions. The lovely lyrical of
"Sun on Stairs"
was followed by Mulligan's best known tune
"Walkin' Shoes".
Alan explained that the final Mulligan composition
"K4 Pacific"
was descriptive of a steam railroad express - apparently Mulligan was a great steam railway buff.
The next number was probably the one that will be best remembered in the gig, it was a piece by Billy Strayhorn from Ellington's Shakespeare Suite,
"Star Crossed
Lovers
"( Romeo and Juliet). David's piano solo was exquisite and Alan's alto wove a magic spell.
The last number was Alans composition
"Blues on the Beach"
which he wrote on Bournemouth beach whilst playing a season in the orchestra for "Evita". He dedicated the number to Andrew Lloyd Webber!! His punchy baritone lead provided a base for every member of the quartet to excel and the whole thing swung like crazy.
The audience wouldn't let them off without an encore and Alan simply led in on alto with a relaxing lilting version of Jerome Kern's "Yesterdays". Somehow it was the perfect wind down to an exceptional evening by two of the World's best jazz men in a great swinging quartet.
We have asked them to come back in November to close our 2002 season and we are delighted to say that they have accepted the invitation.
For those looking for recordings of some of these numbers try -
"Summertime" Barnes/Newton Concord CCDEU 4905-2
"Below Zero" Trio + Barnes Concord CCDEU 4842-2
"Manhattan" Trio + Barnes + Conti Candoli Concord CCDEU 4947-2
Keith Nichols Blue Four
The Keith Nichols Blue Four gig was musically a " first" for S.M.J.C. The first time (in 11 years) we have booked a combo with a banjo player and without a drummer! Chris Howse played banjo in only one number - the rest of the evening he played the tenor guitar (4 strings) most fluently. The gig was moderately well attended and wholeheartedly enjoyed by all present. Those who didn't come (fearing a dose of "trad"?) couldn't have been more off the mark. One of our guests was journalist and jazz critic Stan Woolley who was kind enough to pen a short piece which is included verbatim - Many thanks Stan. Sorry, no photographs of this gig.
KEITH NICHOLS BLUE FOUR SCARISBRICK HOTEL, SOUTHPORT. FEBRUARY 24th 2002 Review by Stan Woolley.
"Southport Melodic Jazz club's second presentation of the New Year featured Keith Nichols' Blue Four . Multi instrumentalist Nichols is no stranger to the North West and was here in January for the hugely successful third Merseyside Jazz Festival. The Blue Four consisted of Nichols on piano, Norman Field on reeds, Chris Howse on tenor guitar and, occasionally, the much maligned banjo, while Colin Turner coped manfully with those two monsters of the plumbers art, the tuba and bass saxophone. In terms of repertoire, the group drew heavily on the decade of the 1920's , the time when jazz moved out of New Orleans and headed North up the rivers and railroads to Chicago, Kansas City and beyond to New York, where it gave rise to the Swing Era. With it's unusual instrumentation the band produced a wide range of textures and tones from choppy ragtime to gruff, rumbly ensembles, evocative of the Gerry Mulligan and Miles Davis bands of a jazz era still to come. The leader turned in several memorable solo pieces of which Scott Joplin's lyrical "Solace" was one, and Duke Ellington's "Black Beauty" another. Norman Field's agile clarinet was frequently the lead voice on many numbers and he made the most of his solos- and vocal opportunities- on numbers like "Deed I do" and "Too marvellous for words" There was also a Fats Waller medley during which we heard a booming but remarkably nimble solo from Colin Turner's tuba on "When somebody thinks you're wonderful". This was melodic jazz at its best . The music was a delight and the leader's informative and often witty introductions made a most entertaining event."
JACQUELINE DANKWORTH AND HER MUSICIANS SUNDAY MARCH 17 2002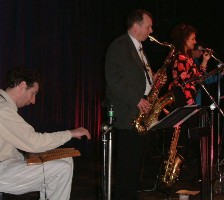 It is true to say that "class will out". Jacqui held a full house spellbound for two 45 minute sets in
Southport Art Centre's Studio 2.
She created an interesting programme with the support of
Mike Outram
on guitar and the irrepressible
Alan Barnes
on clarinet and alto and tenor saxes. (Alan's appearance was a pleasant surprise - Jacqui's choice - making it his second SMJC appearance so far this year: and also ironic. He was booked to play to play here tonight with Conte Candoli, whose sad death caused the re-scheduling.)
Jacqui's partner
Harvey Brough
sat in for a couple of numbers in each set; notably Hoagy Carmichael's
"Skylark"
(on psaltery) and Jobim's
"Dindi"
(on Spanish guitar).
Her programme was was drawn mainly from classic jazz standards with superb versions of Ellington's
"Do Nothing Till You Here From Me"
and Gershwin's
"Our Love Is
Here To Stay".
She excelled on
"I'm A Fool To Want You"
and
"Teach Me Tonight".
Her diction and phrasing were faultless throughout and she moved from powerful blues phrasing to delicate and poignant subtlety in a seamless manner, exemplified by her brother Alec's composition and arrangement based on Lorca's poem "Narcissus", which she sang in Spanish.
Throughout the evening Alan Barnes provided sympathetic accompaniment, some great solos, particlarily on the clarinet in the upper register. Mike Outram's guitar was the perfect foil to voice and reeds. A concert to be remembered for a long time.
TOMMY WHITTLE AND BARBARA JAY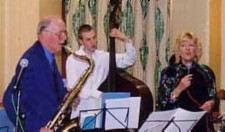 SCARISBRICK HOTEL LORD ST. SOUTHPORT SUNDAY APRIL 28th 2002
. It is over a year since their last S.M.J.C. gig. We had an 'average' size audience but all highly enthusiastic for this experienced duos brand of smooth jazz. Tommy corrected the reference in our last newsletter to his being part of the "Best of British" line up (Apologies Tommy -Ed.) He warmed up with the trio (
Vinny Parker -keyboards/Pete Turner
-
bass/Guy Walsh-drums
) with a swinging "Don't get around much " followed by a rip roaring up tempo "Sweet Georgia Brown" giving Guy plenty of scope on the drum breaks. Other noteworthy items were a delightful "Laura" (with a fine unaccompanied sax,chorus) "One o'clock jump" and a Hank Mobberley composition whose title has escaped me! Barbara performed several songs from the "Ella Fitzgerald Songbook" repertoire to great effect . Particularly memorable were Gershwins lesser known"Isn't it a pity", Cole Porters "I've got you under my skin" and a wonderful version of the jazz waltz "Emily" with which she concluded the evening.
Vinny Parker
deserved Tommys' praise for his excellent sympathetic accompaniments and great solos, as did
Pete Turner
for some lovely bass work and
Guy Walsh
for a very cohesive performance and exciting break solos. Altogether a good evening of mainstream jazz at its best.
LILLIAN BOUTTE AND HER MUSICIANS 19TH MAY 2002 AT SCARISBRICK HOTEL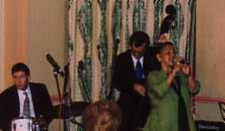 The Mayor of Sefton was present to welcome Lillian to Southport as official "Ambassador of music" from her native New Orleans. Fresh from gigs at Keswick and Goole, Lillian and her musicians made a real hit with our S.M.J.C. audience, most of whom were hearing her for the first time.
Thomas L'Etienne (saxes and clarinet),
Phil Parnell (keyboards), Denny Ilett jnr.(guitar), Andy Crowdy (bass) and Andy Goodchild (drums)
kicked things off with a swinging
"Paper Moon"
and after one more introduced Lillian with her haunting version of
"Sleepy time Down South
". The first set featured an up tempo
"Lover come back to me"
and a relaxed
"C'est si bon"
with excellent solos from the quintet. By this time the audience were putty in her hands and highly appreciative of the not often heard
"I've got that old fashioned love in my
heart".
The second set produced a very good vocal from guitarist
Denny Ilett
with
"Where or when"
and a Dennis James blues composition from the quintet. Lillian got into top gear with Bessie Smith's
" On revival day",
an energetic version of
"The day
they closed Storeyville"
and Armstrong's
"Old man Mose".
"If I could be with you"
from Lillian stole the show and the group encored with a lovely version of the calypso from Cole Porter's
"High Society calypso"
(Instant flashbacks of Louis and the Allstars on the coach in that great movie!) The quintet proved to be real virtuosi and obviously enjoyed each others playing. Thomas L'Etienne's amusing compering gave excellent continuity . Lillian herself is one of jazz's great vocalists and an ebullient and happy performer. We have received many requests for a repeat visit next year to which Lillian has tentatively agreed. Now she has "broken the ice" in Southport, I'm sure tickets for next year's gig will be at a premium!
Danny Moss M.B.E. with Jeannie Lambe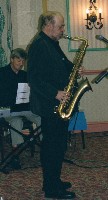 Sunday September 15th 2002
at the Scarisbrick Hotel
with
Vinny Parker
-keyboards
Norman Fisk
-bass and
Eryl Roberts
-drums. The gig started badly ! An un-announced and un-signed diversion on the A570 into Southport caught our drummer who arrived 10 minutes before start time and after the sound check ! Net result - a disgruntled Danny Moss haranguing our soundman for balance for the first three numbers (I can't even remember what he played!) Things settled down and we began to enjoy Danny's full tone and vast experience of "mainstream" improvisation on an up tempo version of Edgar Sampson's
"If dreams come true"
with an unaccompanied chorus and a sympathetic set of drum breaks. Danny picked his way through a series of ballads-Ellingtons "Do nothing" a slow version of
"There will never be another you",
a rip roaring
Fine And Dandy, Weaver Of Dreams, In A Mellow Tone, I Wish On The Moon
and to close the set a moving rendition of Phil Silvers/Jimmy Van Heusen's
Nancy With The Laughing Face
. Vinny ,Norman and Errol provided a solid ,swinging back drop. The second set belonged to Jeannie Lambe -she lifted the rhythm section and tested Vinny Parker on more than one occasion. It was a varied programme - this lady packs a real punch and established a great rapport with the drummer. An opening blues
Free And Easy
preceeded a lively
I Love All Of You
and
Don't Worry About Me
. Jeannie moved effortlessly via a minor blues "What is love?" into some classic pieces from the Great American Song Book-
Day In Day Out
and Porter's
Get Out Of Town
in a bossa nova style. Ellington provided the next two numbers
Satin Doll
with a polished duet with Danny's sax and
Times A Wastin'
. She covered a great version of
Savoy
again with an arranged sax section and a poignant
You Don't Know What Love
Is
with a superb set from Vinny . Danny now 75 and Jeannie provided an evening of classic mainstream jazz from their lifetime of experience of the genre . Despite a bad start the audience warmed to their music and thoroughly enjoyed their first visit to Southport , almost at the end of their summer European tour. They are off back home to Perth Western Australia early September.
The Three Tenors (saxes)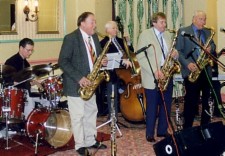 Sunday October 20th. at the Scarisbrick Hotel Southport.
We asked
John Hallam
to choose two favourite Northern based tenor players to feature in a
"Three Tenors"
combo with
Vinny Parker
(keyboards),
Dave Capp
(bass) and
Ken Leigh
(drums). He unhestitantly chose
Jimmy Thomson
and
Brian Smith
and agreed to front the gig on condition that they could also double on clarinets (a bonus!) It turned out be one of the best swinging evenings of S.M.J.C.'s 2002 season. An opening "Bike up the Strand" gave each tenor a solo and a very lively warm up. Ellington's "In a mellow tone" provided a rich ensemble sound. An up tempo "Tenor Madness" featured individual solos with duet riff support. A complete change of tone on John's favourite "Poor Butterfly" done as a clarinet duet with Jimmy Thomson was loudly applauded and followed by "No greater love" and "I'm old fashioned " featuring Brian Smith on soprano sax. Now really in the groove with Vinny ,Dave and Ken , the band concluded the first set with a Getzian "Ipanema" and a really rocking "Sweet Georgia Brown". It had to be in the second set - and it was ! a great opener -"Lester Leaps in" , John then calmed things down with a subtle "There'll never be another you" and took a break whilst Jimmy solo'd on the lovely ballad "Then I'll be tired of you" "Stompin at the Savoy" saw John's clarinet feature backed by a two tenor harmonic support. The group blended really well on the last four numbers and gave the rhythm section plenty of room to feature-" I surrender dear" "Out of nowhere" and a magnificent "Body and Soul" and finale "Perdido" resulted in a standing ovation and a great encore "Just Friends" -aptly describing how the S.M.J.C. audience felt towards this great sextet. Recommended listening "John Hallams Jazztet" C.D.
Dave Newton trio with Alan Barnes,Southport Arts Centre -Nov.17th 2002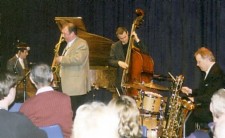 Steve Brown stranded at a gig in Moscow gave a sell out S.M.J.C. audience the opportunity to hear some wonderful jazz drumming from
Sebastiaan de Krom
, supporting
David Newton
and bassist
Mat Miles
. Things started with a bang ! Fireworks and a parade for the switch on of Southports Christmas lights in Lord Street, made it slightly difficult for the quartet to get from the hotel to the venue on the other side of the street! Since their last gig here in January they have all been very busy.
Alan Barnes
has had a particularly hectic time, culminating in the premiere of his "Sherlock Holmes Suite" and the issuing of his latest C.D."If you could see me now" on which he plays exclusively alto sax- a superb session on Zephyr -Z CD 34. They opened the first set with Mulligan's "Five Brothers" -originally written for Getz over 50 years ago. Sam Coslowe's lovely ballad "In the middle of a kiss" preceeded a contrasting high speed version of "Ornithology" with Alan matching Parker's be bop virtuosity. Alan reminded us of times past when exotic fruit just wasn't available and the only bananas on view were on Carmen Miranda's hat ! A pre-amble to "Mango's" from his latest C.D. which gave Sebastiaan ample opportunity to alternate with rhumba rhythm. David Newton followed with an exquisite piano intro to Ted Dameron's "If you could see me now". After so far an exclusively alto set Alan finished the first half with the baritone on "Blues on the beach"-one of his own compositions harking back to summer days in Brighton. The second set saw Alan revert to alto with Bud Powell's "Bouncing with Bud" and then switched to clarinet for "A child is born" featuring a memorable bass solo from Matt Miles.The trio captivated the audience with David Newton's own composition "Bright new day" from the C.D."Half way to dawn" and Alan re-joined them on baritone for John Lewis's bluesy "2 degrees east 3 degrees west" from the quartet's C.D. "Manhattan" on which the late Conte Candoli featured on trumpet. Alan's baritone brought back memories of the pianoless quartet with Mulligan's tune "Line for Lyons" on which Dave quietly created Chet Baker's counterpoint on piano which Matt and Alan picked up with baritone and bass. The final number gave Sebastiaan free rein on a very cleverly constructed drum solo picking out the melody timing on the bass drum on "You do something to me" and quietening the audience to pin dropping point during one chorus. One of our members who had travelled up from Luton for the gig remarked afterwards that tonight was a gig for jazz connoisseurs. Quoting Dave Gelly "Jazz played at this level always sounds miraculous to me. How do guys think that fast , let alone manage the notes, while at the same time being alert to what everyone else is doing ? I don't know . I'm just glad they keep doing it ".
Dinner Jazz with Liz Fletcher and the John Hallam Jazztet-Scarisbrick Hotel ,Southport Sunday Jan.19th 2003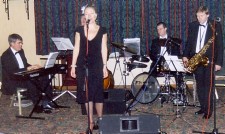 Our 2003 season opened with an excellent dinner jazz evening, enjoyed by 90 members and friends to celebrate S.M.J.C.'s first birthday as a fully fledged club.
John Hallam
(tenor ,clarinet and flute)
Steve Moore
(piano),
Dave Capp
(bass) and
Ken Leigh
(drums) proved their reputations as excellent soloists and sympathetic accompanists to our principal guest of the evening,
Liz Fletcher
. Liz has been singing professionally for ten years . She lives in and mostly gigs in and around the Metropolis. This was her first visit to the North West, brought about by a meeting at last years Swanage Jazz Festival. She has built up a reputation amongst jazz musicians as a true jazz artiste with accolades from (among many) Bobby Worth ,Campbell Burnhap and Alan Barnes. Her latest C.D.s "Mellow mania" (BBJ 1001 Black Box)and "Blue Afternoons" -Mainstem MST CD 0027 , contains original material from Rupert Waites and a variety of accompanying musical styles.Her next (in progress) will concentrate on her favourite jazz standard ballads with which she captivated the audience on this occasion. Liz just "oozed" the melodies. Quiet, understated and rhthymically exciting. Minimal body movement but with hands that just seemed to touch the tune. Jobim's "Wave" opened the evening -you could sense the waves on Ipanema beach. Notable in the first set were "Everything happens to me" "Lady be good" and "Bewitched,bothered and bewildered". John Hallam switched instruments to suit the number and really swung it on the clarinet in "Lady be good". Dave Capp provided a great stride bass for Liz on the first two chorus's of Gershwin's "I've got rhythm" and Steve Moore excelled with a beautiful piano arrangement on "Embracable you". The only other Jobim number came in the second set - a fast interpretation of "One note samba" which gave Ken Leigh the chance to feature some classy drum work. "April in Paris" which Liz sang slowly and with great expression was one of the evening's high spots with Porter's "I love you"in the same league. Liz concluded with "Stormy Monday Blues" and encored with "There will never be another you" which is just about how we all felt about her performance on ours (and John Hallam's) birthday.
Mainstreet with George Galway Sunday February 16th 2003 at The Scarisbrick Hotel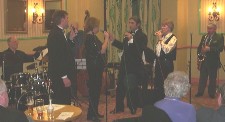 A sell-out gig and a very appreciative audience were queuing at doors open time 7.30 for 8pm start.
Mainstreet
jazz vocal quartet (
Linda Corcoran - Sue Proffitt - Steve Holt - Ed Evans
) opened the proceedings with Four Freshmen arrangements of
Somebody Loves
Me
and
Easy Street
backed by
Norman Bolton
(keyboard),
John McCormick
(bass) and
Mike Hoggard
(drums).
Mainstreet
have a great feel for the jazz harmonies and manage to combine complexity and swing. They draw their inspiration from the close harmony groups which prospered in the swing era (and later).
I Thought About You
, and
I Get Along Without You Very Well
brought to mind the Sinatra interpretations but with instrumental quality harmonisation.
After You've Gone
, Ella's
Tisket -a-Tasket
and a Polka Dots inspired
I'm Shooting High
brought the first set to a highly applauded close for them and the trio, who had been given plenty of scope for soloing the arrangements.
Mainstreet
have been together in the present line-up for
7
years and have featured in the Wigan Jazz Festival and sung with big bands including the Andy Prior Orchestra. They seem very comfortable with the trio, particularly when it was augmented in the second set by reedsman
George Galway
.
George warmed up with the trio in set one on tenor with a brisk
September In The Rain
and switched to flute for Irving Berlin's
Blue Skies
. George is a fantastic jazz flautist; it was obvious from the first 8 bars. His interpretation of the Beatles
Here,There And Everywhere
was just magic. Our bassist John McCormick who was a last minute dep for an injured Norman Fisk helped to elevate this lovely melody to something special jazzwise.
John had already managed
Mainstreet
's intricate arrangements on sight (to their great relief and satisfaction!). George switched to clarinet for
Lady be good
; he took the audience by surprise as he put a hard edge on Gershwin's well known tune. The mood was immediately softened with the flute on Jobim's
Girl From Ipanima
before
Mainstreet
joined him on stage for their final spot.
George blended well with
Mainstreet'
s
style and added to the trio's swing behind
I May Be Wrong
and
Georgia
. Mainstreet chose
A House Is Not A Home
to sing a cappella - a very rich harmonic texture behind a strong melody
lead from Linda -
was lovely, despite Ed's introduction
that his was one "for those people who don't like jazz!"
Most of the remaining programme was in tribute to
The Freshemen
.
Give Me The
Simple Life
, Matt Dennis's
Angel Eyes
,
I Can't Give You Anything But Love
,
SanFrancisco
and
Day In Day Out
, with the added freshness of
the trio with George's solos and swing.
Lover Come Back To Me
,
Memories Of You
,
and
Orange Coloured
Sky
were the exceptions, paying homage to Ella, The King Sisters and
New York Voices respectively. The audience demanded an encore. Appropriately
It's A Pity To
Say Goodnight
.
This group deserves to be better known.
Anthony Kerr Trio at The Scarisbrick Hotel - Sunday 16 March 2003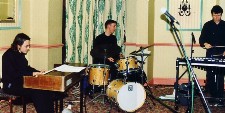 Anthony Kerr
(vibes)
Jim Watson
(organ)
Steve Brown
(drums)
This really was a connoisseur's evening of jazz.
The audience was very attentive throughout for this feast of creative and exciting music. The old cliche of "three minds working as one" was truly evident at this gig. The trio of young and gifted London-based musicians have played regularly and recorded together.
Of the 12 tunes they played, 5 were from their recent C.D.
Too Marvellous for Words
(Zephyr ZECD32). Opening with a slow version of
I Thought About You
, the trio immediately demonstrated drive and laid-back swing.
Also noteworthy in the first set, Jerome Kern's
The Song Is You
and a rhumba
Softly As
In A Morning Sunrise
featuring the subtle excellence of Steve BrownÆs percussive skills. Anthony chose a fast blues by that best known (and recently deceased) vibesman Lionel Hampton,
Red Top
to close the set.
In the second, the high points were:
Monk's Dream
, an organ feature with Jim Watson really enjoying himself on this Thelonius original,
My Romance
with a lengthy vibes intro and the finale
That Old Black Magic
- and it really was!

Sunday April 13th 2003 at Southport Arts Centre
GEOFF EALES TRIO
A TRIBUTE TO THE PIANO LEGENDS OF JAZZ
Geoff Eales
piano
Roy Babbington
bass
Mark Fletcher
drums Geoff Eales and the Southport Arts Centre Steinway concert grand piano are a fantastic combination, throw in Babbington and Fletcher and the Cambridge Theatre's acoustics and the result is the best jazz trio sound since Oliver Jones back in 1991. For good measure add a touch of magic from the
"Piano Legends"
and you have a jazz experience no one in the audience will forget in a hurry!
Geoff Eales is one of the few pianists in the world with a technique capable of interpreting the sounds of the masters whilst still playing creative individual jazz.
Roy Babbington has developed a style and range on the bass, which turns it into a genuine solo instrument. Mark Fletcher's cohesive drumming creates the drive and all three coalesce and swing remarkably.
Opening with Oscar Peterson's
Hole in one,
Geoff set the scene for a journey through piano evolution. His short rendition of Scot Joplin's
The Entertainer
demonstrated the eras of stride. Fats Waller's
Ain't Misbehavin'
took the genre forward with a more flexible right hand style and some double tempo. Art Tatum's interpretation of
Tea for
two
was incredible and highlighted Eales's superb technical ability and fluency.
Dave Brubeck's "Take Five" gave the trio a chance to improvise in the strange land of 5/4 tempo on this Paul Desmond original. Errol Garner's "Misty" was appropriate for this concert by the (albeit not always visible) sea! The seashore mood was continued with some Jobim;
Triste
was up tempo and very much in the trio's own robust style with a tasty drum solo from Mark.
Autumn Leaves
with a bowed bass, counterpoint and fugue owed much to J.S.Bach but was great jazz and a musical world away from the last number in the first set Thelonious Monk's
52nd.Street
-Tempus fugit!!Everybody likes a Gershwin tune but not everybody recognises George's own piano style. Geoff reminded us by opening the second set with
Lady Be Good
and then switching into
Lullaby of Birdland
from the man he described as Britain's 2best pianist export", George Shearing. Another, but less well known, export was Victor Feldman's lovely ballad
A face like yours
. Geoff then put in a request from one of our members for the fabulous Bill Evans "Waltz for Debby" outstanding.One of Roy Babbington's claims to fame is his recording of "Air on a G string" for the Hamlet cigar T.V.ad (for which he says he was paid £7!) and which formed the basis for a piece in the style of Jacques Loussier. The next three were unashamedly modern jazz - McCoy Tyner's
Stokin",
Herbie Hancock's
Watermelon Man
and Ellington's
Prelude To A Kiss
in Keith Jarret's laconic style. Ellington also provided the last number
Take The A train
, a popular closer for many jazz combos. However, despite protests from the staff about "time-up" the audience just kept applauding until the trio came back for an encore and Geoff chose from the trio's new C.D. Cole Porter's
Let's Face The Music And Dance
. (Mainstream label, MSTCD0032, title "Facing the Muse").
Lillian Boutte at The Royal Clifton Hotel Sunday May 18th 2003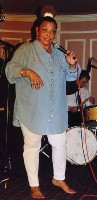 The course of true jazz (like true love) never runs smoothly! Guitarist Denny Ilett Jnr. was in Canada and
Dillon Howe
depped on drums for the anticipated Andy Goodchild. In the end did it matter? An emphatic NO! Lillian just carried the evening and the audience in the palm of her hand. There were some repeats from her last gig in Southport a year ago. Her ever popular opener "Sleepy time down South," Armstrong's
Old Man Mose
and
Farewell Storeyville.
Plenty new and some rarely heard at S.M.J.C. gigs. In the latter category
Somebody Bigger Than You
, a gospel song with an accompaniment straight off a 1950's pop record and a very funny
You Got The Right Key But The
Wrong Keyhole
.
Thomas L'Etienne
showed his prowess on tenor with a solo that could have been Eddie Lockjaw Davies on another gospel derived
Halleluh.
Lillian featured a song written by her New Orleans pianist
Phil Parnell
Laissez Faire
(or was it "Lazy Fare?") To emphasise the mood she sang it minus her shoes. Phil is no slouch on the keyboard which he ably demonstrated with a fine solo on
In A Sentimental Mood,-
slow, thoughtful and beautifully played.
Andy Crowdy
, as well as providing a solid and inventive bass throughout, added his vocal support on occasions and Dillon Howe was given full rein on a jazz version of a folk tune
Martinique
in which Thomas treated us to a Creole clarinet solo reminiscent of Albert Nicholas.
For my money Lillian is at her best on ballad interpretations which were few and far between tonight. However she did a fantastic job on
Some Day You'll Be Sorry, There'll Be Some Changes Made
, and especially
'Tis Autumn
. The lady is a supreme entertainer. It was a full house for our first gig at this new venue and a thoroughly enjoyable evening ended with an audience sing along to
High Society
Calypso
------again!!!
Alan Barnes Octet with narration by Alan Mitchell June 19th 2003

"Sherlock Holmes Suite" at the Scarisbrick Hotel, Lord Street to open the 2003 Southport Jazz Festival. The suite, written and arranged by
Alan Barnes
around characters and plots of Conan Doyle's master detective. Alan also wrote the introductions to each movement, drawing on quotations from the texts, which were read tonight by Alan Mitchell - actor and comedian.
It is less than one year the suite was premiered at the Appleby Jazz Festival and it was recorded a few weeks ago with tonight's line-up save for
Barnaby Dickinson
(trombone depping for Mark Nightingale. The rest being
Robert Fowler
- tenor /clarinet
Stan Sulzmann
- alto/tenor/flute
Bruce Adams
- trumpet/flugelhorn,
David Newton
- piano,
Simon Thorpe
- bass,
Clark Tracey
- drums
Alan has said ( and written) that he wrote the parts with the talents and styles of this fine bunch of musicians in mind. It certainly worked tonight. Being a complete work, this review is much different from regular gigs, which can easily be segmented. What came across throughout the Suite (an introduction, 13 movements interspersed by narrations and a conclusion) was the excellent continuity and the "seamless joins" between orchestration and solos; and the swing, not always there in descriptive writing but here in abundance.
New boy first, Barnaby was just incredible. Alan pre-ambled by hoping that he would make a mistake tonight to prove that he was human. He didn't! His feature on the
Hound of the Baskervilles
with a part redolent of Prokofiev's Wolf .
David Newton, making the best of a hastily acquired piano following the failure of the house instrument was, as usual, quite outstanding; especially in the
"Tiger of San Pedro"
using Latin rhythms and faintly oriental melody line.
Stan Sulzmann was on his mettle tonight playing in front of his former sax teacher Terry Porter. He certainly rose to the occasion on tenor, switching to alto when Alan moved to baritone and on to flute in the woodwind sections.
Robert Fowler came over as "Mr. Cool". Great swing and seemingly effortless playing on tenor and clarinet.
There is not much more to be said of Alan Barnes's playing let alone composing and arranging. Just outstanding. Bruce Adams's power on the trumpet, subtlety on the flugelhorn and mastery of the mutes was brilliant. He really led from the front.
Simon Thorpe's bass playing style really suited the piece. Very measured, accurate and driving the rhythm section. He excelled on the bass lead in
"Doctor John Watson"
and also in his solo in
"Watson's Women".
Clark Tracey lived up to his reputation throughout and shone in his solo in
"Grimpen Mire"
and also in
"The Sussex Vampire"
with hand drumming- Cuban rhythms.
Some particular high lights came through in different movements.The contrasting sides of Moriarty in the
"The Napoleon of crime"
from brass burlesque to quiet piano and woodwind.The bass theme over the snare drum and woodwind chords brought the Stickmen to life in
"The Dancing Men."
The cross tempo and muted trumpet with flute in
"The Baker Street Irregulars"
created the babble of young voices from this motley crew of vagabonds invading 221 B.
"Quite a Three Pipe Problem"
conjured up the tobacco fug and HolmesÆ mood swings and his cocaine habit, accentuated in
"A 7% Solution.""Lestrade of The Yard"
was reminiscent The Keystone Cops until cut through by a splitting trumpet break.
Alan Mitchell's
often amusing scene setting really created a great atmosphere throughout, even with the occasional ad lib! The Suite can be enjoyed on a Woodville Records double CD Price £15 from
www.woodvillerecords.com
but not as much as tonight's live performance.
*****************************************************
Jack Emblow and the John Hallam Jazztet at the Scarisbrick Hotel August 17th 2003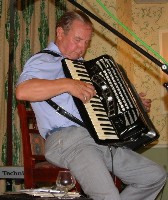 Jack took some persuading to travel North for this gig.
John Hallam's Jazztet
(
John Hallam
- tenor, clarinet and flute -
Vinny Parker
- piano, -
Dave Capp
-bass, -
Ken Leigh
- drums.) was the clincher. He loved the sound on their latest CD and the combination worked really well. Vinny managed to swing whilst avoiding clashing with Jack's exquisite jazz accordion style. Our full house audience were well pleased.
Jack is very much a musical icon. Everyone has heard of him through his long radio and TV career. This was his first SMJC gig so his jazz brilliance came as a surprise to a lot of our audience. Jack cottoned on to John's clarinet virtuosity and chose a sprinkling of Benny Goodman classics, a good slice of Gershwin and a trickle of Ellington. Outstanding were
" Crazy Rhythm," "Poor
Butterfly," " Lady be good," "Tangerine," and " Honeysuckle Rose."
Two gems, which brought the house down, were
" Stars fell on Alabama"
with John in his best Getzian tenor mode and Jack's feature on "Summertime." It's a while since we heard these classic jazz standards expressed so eloquently.
This gig was notable for the quietness of the music and the rapt attention of the audience. Jack is to the jazz accordion as Grappelli was to the jazz violin. A "one off " with a long career playing with some of the jazz Greats. Now he has almost retired from the commercial music scene (except for more background music for
" Last of the summer wine"),
jazz remains his true love and vocation and we want more!
The Jacqui Dankworth Quartet at the Scarisbrick Hotel September 21st 2003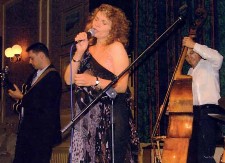 With
ALEC DANKWORTH
bass
MIKE OUTRAM
guitar
ROY DODDS
drums
Jacqui insisted on an early sound check and persuaded our engineer to coax some life into four long unused dusty old ceiling spotlights Result - well illuminated quartet and a great atmosphere!
The evening's programme was centred around songs from their new Candid Records CD
"As the
sun
shines down on me,"
and she opened with Joni Mitchell's
"Man from Mars."
It set the scene for a varied mix of songs, some not associated with the jazz repertoire. Examples, James Taylor's
"Don't let
me be lonely tonight,"
Stevie Wonder's
"Knock's me off my feet"
and a Spanish lyric on Sylvio Rodriguez
"Nuestro Tema"
arranged by Harvey Brough.
There were also some lively arrangements of jazz standards
"September In The Rain"
(with a voice/bass duet),
"Just In Time,"
"Blue Moon"(
with a catchy guitar riff) and a sexy
"Teach me
tonight."

Songs not from the new CD allowed some excellent soloing from Roy Dodds on "This can't be love," Mike Outram on
" In A Sentimental Mood"
and all three on a great version of
"My Romance."
Jacqui wound up the evening with a stomping blues from Howling Wolf and encored with Bob Dylan's
"I
Threw It All Away"
off the album.
There is always one song that immediately brings a gig to mind. This one was a fantastic rendition of Kurt Weil/Ira Gershwin's
"My Ship"
with the ever creative Alec Dankworth producing the sound of creaking sails with his bass tuning pegs. His bass work tonight was outstanding. They deserve success with this album (see
www.candidrecords.com
)
The Steve Berry Quartet at The Royal Clifton Hotel Sunday 19th October 2003.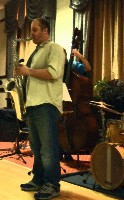 STEVE BERRY (bass)
provided a very original programme, featuring (on tenor sax)
IAIN DIXON (pictured),
guitarist
MIKE WALKER
and
DAVE WALSH
on drums for the club's first gig in our new permanent venue. For a "first night" things went remarkably smoothly. Steve took the opportunity to premiere a new , as yet unnamed, piece. It was a cracker. One good first deserves another!
This hugely talented quartet had the SMJC audience somewhat bemused---Only one "standard" in the first set and that came in the last number, a delightful arrangement of " I,m Old Fashioned". This was preceded by Steve Berry's own rather latin piece "Wedding Day" and a lesser known Thelonious Monk original "Evidence". The more mainstream element ( the majority! ) were more than encouraged by a very welcome contingent from Steve's various teaching establishments ( The Jam Factory and L.I.P.A.) and enthusiatically applauded the solos throughout. It was delightful to hear, in the second set , a harmonically novel version of Kern's "All the things you are", a funky "Stompin' at the Savoy" and a gloriously slow "Body and Soul". These were interspersed with two of Steve's originals. "Ecco de Pepe" with a fantastic bass solo and "Highlands" a rather mournful and distincly celtic refrain.
It was difficult to single out individual soloists. This was a real quartet effort with equal particaption all round. It was simply brilliantly different.
Pity about Iain's togs. Somebody asked if him if he'd come to empty the bins!
November 23 2003 Swingin' The Samba...........The Alan Barnes Latin Jazz Quintet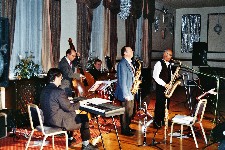 As can be verified by listening to the CD on the Woodville Records, this is one hell of a band and they excelled themselves on the club's final gig of the year. Whilst
Alan Barnes
and
Simon Thorpe
have been here before, it was a first visit for pianist
John Donaldson
, drummer
Dave Barry
and tenor saxist
Art Themen
to an SMJC gig. You could anticipate that it wouldn't be a verbatim re-run of the CD and it certainly wasn't! Art actually commented that the great thing about this set was that it was different every time they performed the
Swingin' The Samba
material. Not much point in reiterating the numbers.....just listen to the CD and you will get the flavour and excitement of the rhythms and masterful improvisation from these kings of their profession. Our barman mixed a special cocktail for this final fling of 2003 and called it "Barnes' Samba Bombshell"(for the enthusiasts it was Vodka, Peach Schnapps, Malibu Rum, Triple Sec, Orange juice plus a splash of Grenadine. Only he knows the proportions.............but he sold a large amount. Alan is coming back later next year with his "Cannonball" sextet. Our members can't wait and our barman is already working on his next masterpiece!
Jan 11 2004 SMJC annual members'''' dinner- jazz evening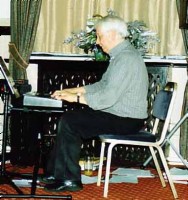 80 members and friends enjoyed an excellent dinner in The Royal Clifton Hotel's Windsor Suite followed by a double bill gig in The Balmoral Suite, in celebration of SMJC's second successful year of jazz events. The incredibly talented solo acoustic guitarist
Brendan McCormack
talked and played his way through a varied set. Covering jazz standards from Kern and Porter in the manner of Barney Kessel (his idol and tutor); he switched effortlessly to a Jobim medley, through some flamenco and classical pieces from Rodrigo, Villa Lobos and Albeniz to a masterful rendition of Lennon and McCartney favourites. Brendan goes back to the Beatles era in his native Liverpool and those tunes brought the house down. Modern jazz pianist
John Rotherham (pictured)
led his trio through the second set.
Maurice Cheetham
(drums) and
Gary Culshaw
(bass guitar) shone through a mixture of jazz standards.
Autumn Leaves, Yesterdays and My Romance
were especially beautiful. Jazzers' favourites
Clockwise, Blue Bossa
and
Night in Tunisia
were also noteworthy. John is one of the best pianists on the Northern scene and the trio were loudly applauded by an appreciative audience.
Feb 15th 2004 The Benn Clatworthy Quartet at The Royal Clifton Hotel Southport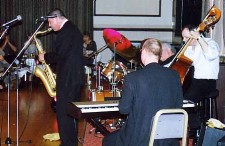 A full house audience were entranced by some incredible jazz from this
World Class Quartet.
Los Angeles resident Brit.
Benn Clatworthy
played some of the best tenor sax jazz ever heard at an SMJC gig. With one of the finest rhythm sections on the planet behind him he had a head start! Pianist
Robin Aspland,
bassist
Paul Morgan
and the incredible
Martin Drew
on drums produced some magic . Jazz of this class is a rare commodity indeed. The programme was a well balanced combination of driving up-tempo numbers and soulful ballads. Of special note were
There Will Never Be Another
You, I've Got The World On A String
and an original from Benn,
Linda's Lament.
A fantastic version of the classic tenor solo
Body And Soul
was all the more poignant for the knowledge that the song was written for Benn Clatworthy's grandmother, the West End and Broadway musical star Gertrude Lawrence. The quartet opened a four day stint at Ronnie Scott's the next day after which Benn is doing a mini UK tour. This quartet have just recorded a CD with vocalist Anita Wardell which is eagerly awaited by everyone in the audience for the Southport gig. You can get Benn's discography information from his website
benn.clatworthy@msn.com
Tina May and The Vinny Parker Trio at The Royal Clifton Hotel - Sunday March 14th.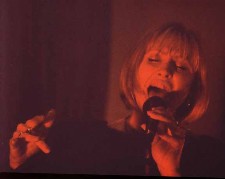 Her presentation was quiet - no vocal histrionics. Her couture immaculate and her stage presence compelling. A full house audience was noticeably attentive. That's Tina! Her musician's were equally gripped.
Vinny Parker
(piano), couldn't wipe the grin off his face.
Dave Lynane
's bass seemed somewhat hushed and
Bob Howard's
drumming subtle. The programme dipped into Tina's newly released CD (
Early May
33Jazz 093
) - but not exclusively. Two standards with French origins (
Autumn Leaves and September In The Rain
)
,
demonstrated Tina's ability and confidence in her second language. Gershwin's up-tempo
S'wonderful
gave Bob a chance to shine, as did Ellington-Tizol's
Caravan.
Two ballads closely associated with Sinatra (
Come Fly With M
e and
They Can't Take That Away From Me)
allowed her to prove that O'l Blue Eyes certainly has no monopoly here! Tina sang them beautifully, in the jazz idiom with some great scat. No vocal programme of this style is complete without a Cole Porter song and Tina chose
Night and Day
and followed it up with a melancholy and lesser known
I Keep Going Back To Joe's.
Billie Holliday's repertoire is always testing and Tina passed with honours on
Say It Isn't So
and
You've Changed
. Three numbers really shone out. Billy Strayhorn's
Chelsea Bridge
, Monk's
Well You Needn't
(great bass solo) and the acapella introduction from
The Sacred Concert
leading into a final
Take The A Train
with some fine piano work from Vinny. Well it should have been final! Except for a requested
How High The Moon
and an encore on
Honeysuckle Rose
with modified lyrics and much homage to Charlie Parker's melodic variations. This lady really is a vocal instrumentalist. A most enjoyable evening.
Roy Williams and John Barnes with the Vinny Parker Trio at the Royal Clifton Hotel Southport Sun.April 18th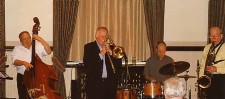 Norman Fisk
depped on bass for Dave Lynane, who was unavoidably detained and
Dave Hassell
(drums)
made his SMJC debut tonight.
Roy Williams
and
John Barnes
were highly complimentary about this excellent rhythm section who opened the proceedings with a lively
You and the night and the music.
John chose his baritone to join Roy on a well rehearsed arrangement of
Broadway,
followed by the Mamma Cass covered
Dream a little dream with me.
John's homage to Gerry Mulligan came through a couple of times, firstly in
Line for Lyons
and later with Bob Brookmeyer's
Open Country.
The unaccompanied trombone/bari duets were very effective. Roy Williams is the master of lyrical melodic trombone improvisation and he proved the point with exquisite versions of
Why did I choose you?,
Gershwin's
Isn't it a pity, Be still my foolish heart
and
The nearness of you.
Particularly stunning was his solo on a requested Jimmy Van Heusen song
Like someone in love.
John Barnes moved through his instrumental kit bag with great effect. Clarinet for
Can't help lovin' that man of mine;
alto for Johnny Hodges's
Daydreamer
,
What is this thing called love
and a ripping version of
I'll remember you.
His solos were original, making full use of the chords whilst keeping the melody thereabouts. His vocal refrain on the Fred Astaire
I'm building up to an awful let-down,
whilst amusing, was delivered with great style and was well received by a very appreciative audience. Roy and John rounded off the evening with a great interpretation of Ellington's
Satin Doll
and a big
thank you
to
Vinny Parker
, Norman Fisk and Dave Hassell for great support and some excellent soloing.
The Marty Franklin Quintet - at The Royal Clifton Hotel - on Sunday 23rd May 2004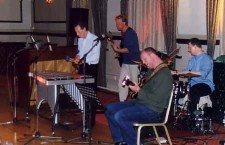 Marty Franklin
(vibes),
Vinny Parker
(piano),
Mike Walker
(guitar),
Gary
Culshaw
(bass guitar),
Ken Leigh
(drums). Marty Franklin, whose jazz roots go back to the Tubby Hayes/ Ronnie Scott/ Phil Seaman London scene, has recently returned from a twenty year domicile in Canada. He is quickly re-establishing himself on the North West jazz circuit and he put this classic vibes quintet line-up together at SMJC's request. A somewhat tentative start on
Greatest Love
was smoothed away with a fine Milt Jackson blues. It was Vinny's first gig on our new Steinway - Boston piano. The effect was immediate and brought a foretaste of some stunning solos to follow. Marty's choice of guitarist Mike Walker was a shrewd one. He quickly showed himself as the energy supplier of the group and struck up an empathy with drummer Ken Leigh which grew as the evening progressed. Gary Culshaw, a late dep. on bass guitar, was very fluent and solo'd well, but the instrument lacked the tone and resonance of a double bass. Marty had selected a list of familiar standards:
Out of
Nowhere, Polka Dots and Moonbeams
, and an excellent version of
Green Dolphin Street.
In the second set the quintet really gelled. A couple of original Marty compositions, a blues
I Remember
Milt,
and
Latin Caper
, a catchy tune in his favourite tempo. He excels in the Latin mood and emphasised this in a samba version of
I Remember April
. Vinny came to the fore on Jerome Kern's
Yesterdays
, Ellington's
Don't Get Around Much
and a cracking
They Can't Take That Away From
Me
. But it was Mike Walker who stole the show tonight. His drive, swing, rhythmic support and seemingly effortless melodic improvisation were a coctail that went to the heads of the audience. Full marks to Marty for giving him plenty of space to create some real tension and build up his solos. He was as comfortable in this mainstream setting as his more customary avant garde outfits. All together a very enjoyable evening. Thanks Marty.
Sunday 20th of June 2004 - At The Royal Clifton Hotel - The Bruce Adams Quartet.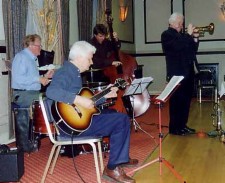 Bruce Adams (trumpet and flugelhorn), Dave Cliff (guitar), Richard Price (bass), Bobby Orr (drums)
Not a good day. Our sound- man, Steve Wright, retired hurt with back trouble. Our audience was about half the normal number, due (we are informed), to a combination of the current European Cup mania, it being Father's Day and the close proximity of The Southport International Jazz Festival, which starts next Thursday. It certainly wasn't anything to do with this fine quartet, as those who came will testify. Bruce brought what turned out to be a really good rhythm section to deputise for his regular's Leon Clayton and Ralph Salmins, neither of whom could make the gig. Bobby Orr's "seventy something" years just fell away as soon as he picked up his sticks and Richard Price's "twenty something" masked a considerable musical maturity,derived from a classical training, and a rare talent for jazz bass. Bruce is perhaps best known for his big band work and his facility to blow it high and loud. Tonight he treated us to some excellent lyrical solos on both instruments. Not to mention funny asides, the odd joke or three and a vocal refrain on his favourite
Can't Get Started
. He is master of the mute, aptly demonstrated on John Lewis'
Afternoon in Paris
. Also a devotee of Clark Terry, he featured three of his tunes:
Teepee Time, Ode to a Flugelhorn
and
Cote D'Azur
. Bossa Nova rhythms were well represented with Jobim's
Favela,
Johnny Mandel's
A Time For Love
and Sergio Mendes's
So Many
Stars.
We got two party pieces from the band. One from Bobby Orr, who played
Lola
on a mouth held pencil and the other from Bruce who blew both horns simultaneously in Ellington's
Cottontail!
What can be said about Dave Cliff's playing, except that it is just about perfect jazz guitar. Cool, understated, expressive and a wonderful mix of chordal and single note improvisation. With Dave there a piano is not missed. Subtle and quiet accompaniment and brilliant up-front work. All this came together in his feature, Jerome Kern's
All The Things You Are
. His solos in
Secret Love
and
The Lamp Is Low
were also very fine. A special thank's to Bruce for the use of his sound system. It saved the day and sounded great. This was, above all, a fun evening with some special music. A pity a few more couldn't have come to enjoy it. You can get some of tonight's stuff on
Always and Forever - The Bruce Adams Quartet -
Woodville Records CD.
Visit
www.bruceadams.co.uk
.
Southport International Jazz Festival 2004 - Reviews of SMJC events at The Royal Clifton Hotel 24 to 27 June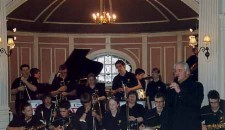 SMJC ran 8 of the 9 gigs at the hotel as well as 5 at
"The Scarisbrick"
and 2 at
"Valentino's"
restaurant.
Your reviewer attended those at
"The Clifton"
during the four days of The Festival.
Thursday evening - The Wigan Youth Jazz Orchestra - leader Ian Darrington

Ian has managed to maintain the enthusiasm and professionalism of this band for 20 something years. Tonight he drew on arrangements accrued during the orchestra's many international tours. Two of the best were a lyrical
Good Morning Johanneburg
and a more driving improvisational
Nelson Mandella,
both from the South African trip. The gig was well attended and a great opener for SMJC's contribution to The Festival. It was hard to keep in mind that the eldest participant (except Ian!) was 18 years old.
Jonathan Murray's
trumpet solos were of a high standard throughout and the the
WYJO Sextet
breaks excellent. It's not surprising that this band has been the starting point for more than a few top class jazz careers.
Friday Afternoon -Riccardo Zegna at the piano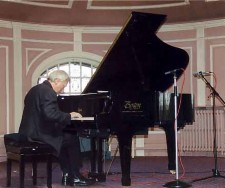 This two hour recital was just stunning. Head of Jazz Studies at Turin Conservatoire and famous in Italy, Ric is virtually unknown in the U.K: Until today, when he made his mark with this audience as a pianist, arranger and composer of considerable merit. Starting with a syncopated composition
Roll's Rag
in the Joplin/Morton style he moved through a fine interpretation of Fats Waller's
Black and Blue
to a stylish, almost classical original
No Valse
, bringing in hints of Ravel. Standards
Sweet and Lovely
and a laconic
If I Had You
provided an ideal canvass to show off Ric's improvisational skills and mastery of subtle chord progressions. More came in a fine medley of Thelonius Monk tunes and the first set concluded with an original piece,
Tarantella,
influenced by his love of Robert Schumann's music.
A shorter second set was dominated by a masterful Duke Ellington medley, a piece from Ric's own
Andalusa Suite
and a storming version of Sonny Rollins's
Aeregin.
His stock of CD's of his
Andalusa Suite
sold out within minutes following this terrific gig.
THIS GIG WAS RECORDED AND HAS BEEN PROFESSIONALLY EDITED.
A CD IS NOW AVAILABLE VIA THE CLUB - PLAYING TIME 50 MINUTES.
IT CONTAINS 13 TRACKS. PRICE
£9 + £1.50
p&p (UK). ORDER BY POST TO
8 LORD ST. SOUTHPORT PR8 1QD ENGLAND
CHEQUES PAYABLE
"SOUTHPORT MELODIC JAZZ"
OR RING
01704 541790 TO PAY BY CARD.

Friday Evening -Jazz-A-Plenty quintet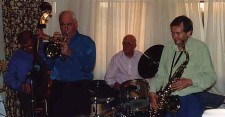 Friday evening
-
Jazz - A - Plenty
quintet

Northern based reeds star
John Hallam
headed this robust mainstream outfit through a very well received programme of standards. The gig was packed [standing room only!] and John was joined up front by
Mike Burns
on trumpet/flugel. Mike's versatility is unquestionable; equally at home in
The Harmony Hounds
or
The Shades of Kenton
band, his pure tone and style really fitted with John on both tenor and clarinet.
John Rotherham
lead the rhythm section on the new Steinway- Boston upright piano with band-leader
Keith Allcock
on [his brand new] double bass and
Dick Nancarrow
on drums. Despite their differing styles[John very modern and Keith/Dick from a Dixieland background], this trio know each other's strengths and worked well to provide a great swing and sympathetic accompaniment to the horns. John Rotherham's solo work was excellent. Of the 20 or so numbers in the two sets, outstanding were John Hallam's
Poor Butterfly,
and all on
Bernies Tune, A Train
and
Blue Monk.
Friday late - Joanna Rimmer and friends.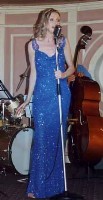 A night-owl late cabaret spot for Southport born vocalist Joanna Rimmer backed by
Ric Zegna
(piano),
John Hallam
(tenor sax),
Keith Allcock
(bass),
Dick Nancarrow
(drums). Living and working in San Remo, Italy, former top fashion model Joanna must be the most glamorous jazz vocalist on the European scene! She has a fabulous collection of
couture
and used some of it to great advantage tonight. We kind of expected to hear a set of jazz-pop stuff, but it turned out to be a much more wide ranging programme which included
In Walked Bud,
Pannonica,
and a beautiful Ric Zegna original
Joa
[written for her]. Her final number,
Caravan,
was at break-neck speed and John Hallam provided a zipping solo. Joanna's style is layed back, she hangs off the beat and is blessed with good timing and pitch. She put on a good show tonight in front of her home town audience and a lot of her relatives - must have been quite nerve racking for her!
Saturday afternoon - Riccardo Zegna (piano) with Steve Berry (bass)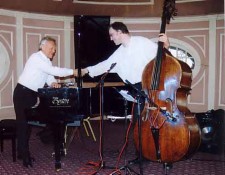 This set proved the point that jazz is a universal language. Ric (no English) and Steve (no Italian) chose a programme of jazz standards and blended like peaches and cream. Instant musical understanding. This set was of a totally different nature to Ric's solo spot yesterday. Totally spontaneous, exciting and creative music from two classically trained masters of the trade. Highlights? Hard to say. Maybe
I hear a Rhapsody
,
My Romance
or
In a Sentimental Mood
for their melodic lines or Monk's
Ruby My Dear
for it's sheer joy and pure jazz feel. The one that took the audience by storm was one of Steve's favourites,
Bye Bye Blackbird
. Robin Aspland dropped in to catch part of this set in between gigs and it was great to hear praise for these two from one acknowledged to be one of the UK's top jazz pianists. It really was a privilege to be at this one.
Saturday Evening - The Steve Mead Quartet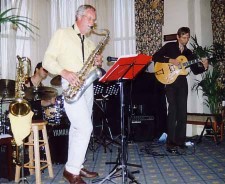 Manchester based guitarist
Steve Mead
with
Frank O'Neil
(saxes and flute), drummer
Tim Franks
and bass guitarist
Laurence Canty
are a well polished outfit, more usually playing together as
First Come First Served
[as regulars at Lancaster's jazz haunt The John O' Gaunt will vouch]. Steve was in charge tonight and put together a very interesting programme with an altogether different hue. Softer, more subtle arrangements with the emphasis on guitar lead and lovely chord progressions. Steve let the guitar speak with minimum chat between numbers, except when relevant to a better understanding of the piece. For once it's worth space to list the whole set list. You don't see many like this. After the gig the guys seemed genuinely excited by the result and the audience certainly enjoyed it.
How My Heart Sings
(Earl Zindars),
Where or When
(Richard Rogers),
Alfie
(Burt Bacharach),
Triste
(A.C. Jobim),
With a Song In My Heart
(Richard Rogers),
I Won't Dance
(Jerome Kern),
I Wish I Knew
(Billy Taylor),
Eisenhower
(John Scofield), ///
The Dolphin
- guitar solo (Luiz Eca),
Cheek to Cheek
(I.Berlin),
Saudades
(Steve Mead original),
Hello Young Lovers
(Richard Rogers),
Melted Matter
(Tord Gustavsen),
The Night We Called It a Day
(Matt Dennis),
How Deep
Is The Ocean
(I. Berlin) and
Sidewinder
(Lee Morgan). Excellent stuff.
Saturday late - Joanna Rimmer and friends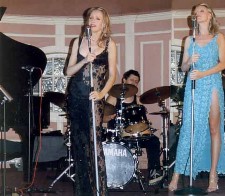 Joanna did a second night owl set, this time borrowing
Laurence Canty
and
Tim Franks
from Steve Mead to create a trio with
Riccardo Zegna
for a different song list. This was a much tighter set than Friday's. Laurence's bass guitar was more in keeping with her style and she managed well without a horn player. The dresses were also different and even more glamorous. Two songs of particular note were
Rhythmaning
and a very soulful version of
My Old Flame
. Well done Joanna.
Regret no review available for Tom Sykes Hot Club Band but the gig was a reported great success with a full house.
The Mark Nightingale Quintet - Sunday August 15th at the Royal Clifton Hotel, Southport.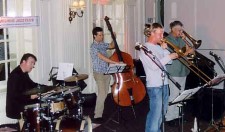 Mark Nightingale and Barnaby Dickinson
- trombones
John Horler
- piano,
Sam Burgess
- bass,
Mike Smith
- drums
Mark responded with enthusiasm to our suggestion of organising this gig with Barnaby, with whom he had only worked in a big band trombone section to date. The idea came from the 2003 Southport Jazz Festival when Barnaby depped for Mark in Alan Barnes's Octet (Sherlock Holmes Suite). We were so impressed with him that it seemed essential to try and get them together to pay homage to the great sound of JJ Johnson and Kai Winding, the fathers of the small group modern jazz slide trombone: And boy, did it work! Despite Barnaby's late arrival due to our friend the M6, the gig got off to a flying start, on time, with a beautifully arranged
It's All Right With Me
, taken from the original JJ &K recording. These two masters of the slide made their mark from the off - stunning stuff. John Horler's feature on
June Time
was just exquisite, as was the very slow, expressive bass work from Sam on Mark's arrangement of
Cherokee
- the antidote for every tenor sax solo of the song [quote Mark].
Barnaby's solo on Clark Terry's
Teepee Time
[I think that's how you spell it?] was a real masterpiece. One of the most applauded ever at an SMJC gig. This followed his feature on the Kai Winding - Curtis Fuller arrangement of
Etance
taken from the Nice Jazz Festival live recording.
After a shortened interval the trio backed vocalist Tony Blake on his excellent lyric parodies of
Manhatten (Merseyside)
and
Stranger in Paradise (Street)
, set in a Liverpool context. Hilarious (and somewhat perplexing for non Scousers !!) Recently recorded, the CD's/Tapes are available at Clare House children's cancer hospice shops in the North West. Thank you John, Sam and Mike for taking time out to support Tony's project.
Mark and Barnaby carried on with Mark's version of Curtis Fuller's
Nicoise
and a George Robert blues. Alan Ganley's arrangement of the ballad
We'll Be Together
Again
was noteworthy all round, as was the finale, an up tempo, extended
S'Wonderful.

No one could recall a more empathetic rhythm section. Mike Smith's technique was just flawless. It brought out the best from the horns; Mark's sound more brassy and punchy, Barnaby's softer and incredibly inventive. It was a privilege to be here tonight. There is an atmosphere when the whole band is enjoying a gig. We had it "in Spades" at this one. We all wished it had been recorded. Perhaps Mark could organise this too?
The Al Wood Quartet - Sunday 12th September at The Royal Clifton Hotel Southport

Al Wood
- baritone, alto and soprano saxes, clarinet and trumpet.
Richard Wetherall
- piano.
Ken Marley
- bass
John Perry
- drums
This quartet replaced the advertised Brazilian jazz combo "Claridade" who had to cancel due to illness. What was billed and expected to be an evening of Cole Porter's music turned out to be a mixture of tunes from Jerome Kern, Benny Carter, Hank Mobley, and Bob Florence with only two Porter numbers in the first set! The Porter content increased in the second but too late to prevent some disappointment, for which the club apologised.
The musicianship, fluency and versatility of Al Wood was, as expected, of the highest order. The trio were solid and inventive with a natural swing. Richard Wetherall's feature on
Alice in Wonderland
and Ken Marley's on
I Love Paris
were both excellent. Al played baritone on
It's All Right With Me
and
Bluephoria
; trumpet on
Deepfreeze
; soprano on
Only Trust Your Heart
; clarinet on
You'd Be So Easy To Love
and alto on the rest -
You'd Be So Nice To Come Home To, Love For Sale
, a great arrangement of
All The Things You Are
and Benny Carter's
Blue Star
. A true multi-instrumentalist. Two or three more Porter tunes in the first set would have gone most of the way to avoiding the criticism of the content and would have prevented what was a good performance being remembered for the wrong reason.
Lee Gibson with the Chris Holmes Trio - Sunday 10th October 2004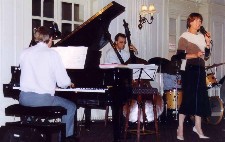 Chris Holmes - piano, Steve Berry - bass, Jimmy Scaife - drums.

A welcome return for Lee, last here in June 2001. Literally "just off the plane" from an East Mediterranean cruise following USA and S.African tours and with a new CD [
Linger a
While
- Spotlite SPJ 576] attracting great reviews.
Steve, one of our most regular and popular bass men was, tonight, nursing the mother of a cold. For the other two in Lee's "Northern Tour Trio" it was their fisrt time at an SMJC gig.
Lee opened with
Nearness of You
- starting with a whisper and ending in a storming crescendo, keeping up the mood with an up tempo
Black Magic
with a Latin flavour. She gave Chris a solo opening feature on Michael King's tender ballad
That's When I
Miss You You The Most
, following with bright sparkling versions of Frank Loesser's
If I
Were a Bell,
Herb Elllis's
No Detour Ahead
and
On a Clear Day
. Lee is very polished with the voice/instrumental duet which she worked in with both bass and drums. Billy Joel's music isn't often fearured by jazz vocalists, so it was a pleasure to hear her great version of
New York State Of Mind
. Lee is also a great one for verses, and she had a lot of the audience guessing by the unintroduced
Somewhere Over The Rainbow
, which she sang with a touch of the Sarah Vaughan's.
Porter's Love For Sale
rounded off the first set, again featuring a scintillating solo from Chris.
The second was a much more relaxed affair, opening with Martin William's
Relax With
Me
and a very sexy Peggy Lee style
Some Cats
. She obliged a request for
Here's That
Rainy Day
and then wound up again with a very fast Jobim
No More Blues
. This lady really holds the tempo no matter how comlex the arrangement and she proved that again tonight. Another from her new CD was Franz Landsman's gut wrenching lyrics and lovely tune
Spring Can Really Hang You Up The Most
, beautifully sung in a novel jazz waltz arrangement which produced the piano solo of the night from Chris. Thr rather trite verse didn't detract from a well crafted
But Not For Me
quickly followed with
Do Nothin'
.
The evening wound down with a latinesque
I Only Have Eyes For You
, a smooth
Never
Let Me Go
and a great show was concluded with
My Shining Hour
.
The Alan Barnes Octet plays "Cannonball" Sunday 11th November 2004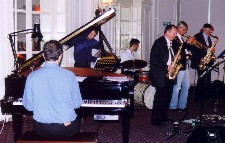 Alan Barnes - (alto and baritone saxes), Don Weller - (tenor sax), Dick Pierce - (trumpet), John Donaldson - (piano), Arnie Somoygi - (bass), Matt Holme - (drums).
The end of the season is on us all too quickly. A glance back on these review pages will tell you that this is the third time in three years that Alan has rounded off for us - each time with a different band and theme. This time we asked him to find and blow the dust off his arrangements of music associated with Julian "Cannonball" Adderley which he recorded with Don Weller live at Wakefield Jazz Club back on May 12th 2000 [ASC CD 36]. He duly obliged, with Dick Pierce replacing Steve Fishwick, Arnie Somoygi Alec Dankworth and Matt Holme Steve Brown. We were just delighted to have the Great Don at SMJC for the first time, likewise Dick, Arnie and Matt. The session lived up to the expectations created by that fantastic recording which must go down as one of the most exciting live albums of recent times - now sadly "out of print." A glance round the full house audience revealed a much larger than usual quota of local jazz musicians - hardly surprising considering the repute of the line up. [Who said jazz musicians won't turn out to listen!?] The band went through Alan's arrangements of
Worksong
,
Clouds
,
Blue Daniel
,
Dat Dere
and
Jive Samba
, Don Weller's of
Jubilation
and
Dis Here
and John Donaldson's exquisite
Azule Serape
. There were others but the reviewer's notes got lost in the excitement! It was all just simply magnificent with great solos all round - but also the precision of the ensemble work was also impressive. Alan has promised to come back to conclude 2005 with his new project - The Horace Silver collection.
The Scott Hamilton Quartet - Sunday January 16th 2005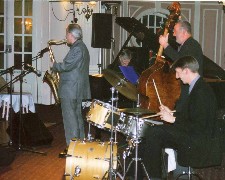 Scott Hamilton - (tenor sax), John Pearce - (piano), Dave Green - (bass), Steve Brown - (drums).
It was quite a night - "standing room only" at start time, probably our biggest ever audience. Scott's first visit with his own European touring quartet to SMJC brought 'em all out! It was as good an example of mainstream jazz as you will get, but dare I say, just a little too polished and unchallenging? Benny Carter's
When Lights Are Low
, a bossa version of Porter's
Dream Dancing
, Dave Green's bass feature on
Get Happy
(fantastic), and a wonderful tenor introduction and rendition of
The Nearness Of You
from Scott, who ended the first set with his own up tempo quirky arrangement of
Sweet Georgia Brown
. Highlights of the second were Powell's
Bouncin' With Bud
,
Flamingo
,
I Got Rhythm
and a just breathtaking version of
Body and Soul
from Scott that was worth the ticket money on it's own.
David Newton - solo piano - Sunday 27th February 2005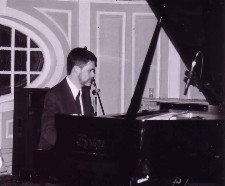 David stepped in "at the last minute" to do this gig following an amazing ----up involving Keith Nichols and a third party promoter who shall go nameless. What's that about clouds and silver linings? This gig was also a complimentary freeby for all SMJC members who supported our recent Winter Jazz Weekend so it was important (to us) that it went ahead: and did it! It was a wonderful experience of solo piano jazz of the utmost skill and beauty which left the audience just breathless.
David kicked off with dreamy interpretations of Porter's
Dream Dancing
and two Mancini tunes,
Nothing To Lose
and
Days Of Wine And Roses
, played as a medley. He then built up some steam with a swinging
Like Someone In Love
, somehow maintained the tension through the jazz waltz
Emily
and raised it furthur with a ten minute up tempo and harmonically novel arrangement of
Blue Moon
that got the biggest ovation of the night and demonstrated beyond question the man's genius at "two handed" piano jazz. His first set finale was a rhapsodic
Hello Young Lovers
which we all expected would break into swing and didn't. It pays to keep 'em guessing!
It was great to hear three new and lyrical Newton originals in set two, a medley of
Forever
,
Bridges of Venice
and
Blank Canvas
. Clifford Brown's
Joy of Spring
got us back into the jazz groove and Dave's choice, interpretation and treatment of numbers from thereon reconfirmed his title of [to quote John Dankworth] "Britain's National Treasure." A melodic
Skylark
, a syncopated ragtime style
Melancholy Baby
and a haunting
It Never Entered My Mind
.
The gig ended with a brilliant
C Jam Blues
played through all twelve keys - stunning stuff. It should all have been recorded tonight. He made our new Steinway Boston grand sound it's best yet. Dave's website
www.davidnewton.net
has up to date information on his gigs, recordings and biographical stuff - well worth a visit.
The Liane Carroll Trio - Sunday March 20th '05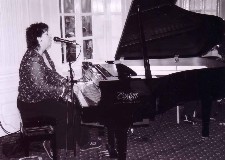 We were surprised [and disappointed] at the below average turn out for this top line pianist/vocalist. Those who didn't come missed the treat that Lianes' fans knew would be on offer. Her varied and fascinating programme was delivered with passion, soul and considerable entertainment value. She almost didn't need her supporting bass guitarist [husband
Roger Carey
] and drummer [
Greg Leppard
] who provided a solid and occasionally overpowered support.
A good sprinkling of the programme came from her two most recent albums,
Son of
Dolly Bird
recorded live at Ronnie Scott's (with trio) and the latest
Billy No Mates
from Splashpoint Records. Of the jazz standards
That Old Black Magic
,
They Can't Take
That Away From Me
,
Our Love Is Here To Stay
and
Stardust
[solo] were memorable. Her acapella scat solo on a very up tempo
Foggy Day
and the Nina Simonesque
My Baby Just Cares For Me
were outstanding.
Away from the regular jazz repertoire were Carol King's
I'll Come Runnin'
, Wills Dixon's
I Love The Life I Live
etc, Tom Wait's
Picture In A Frame
, the Ray Charles hit
You Don't Know Me
, two songs from Donald Fagin and a very lively
Sittin' On The
Dock Of The Bay
. Very varied, beautifully arranged and performed. She manages to combine a true jazz singing style with some very nifty piano playing that would suffice to get her acclaimed on its own merit.
Two tunes that were just a knockout couldn't have been of a greater contrast, Jobim's
How Insensitive
and Liane's own lovely ballad
Dublin Morning
.
Liane proves that jazz is a very broad church and that it doesn't have to be hard work to listen to and to be enjoyed. She has the knack of making it sound easy and, most of all, of providing a high level of entertainment value, not least through her rapport with the audience. To keep in touch with her visit
www.lianecarroll.com
via Links
Sunday April 17th - The Joe Lee Wilson Quartet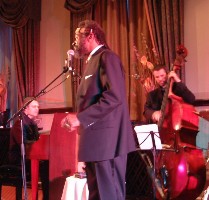 Oklahoma born jazz and blues vocalist
Joe Lee Wilson
with
Terry Seabrook
- piano,
Mat Miles
- bass and New Zealander
Dominic O'Megan
- drums. Our Vocal Jazz Spring Season isn't having much luck. This time torrential rain and Winter temperatures contributed to a small audience and a false alarm on the hotel's fire alarm system delayed the second set and caused some to go home early!! For those who braved the weather and stayed the course, 69 years young Joe Lee gave a highly entertaining evening with his unique style, captivating stage presence and varied repertoire: notwithstanding the odd memory lapses on the lyrics and fade on some sustained end notes.
The trio were superb, with Matt Miles coming in for his first gig and Dom. O'Megan taking Dave Wickin's spot on the drum stool. Terry Seabrook was outstanding and his long time association with Joe Lee really showed.
An opening standard
Where Or When
, Bobby Farr's
Let It Rain
and Sergio Mendes's
So Many Stars
left you expecting an up tempo number but we got more of the same with the Billie Holliday song
I Bought You Violets For Your Furs
(with some scat) and
I'll
Buy You A Star
. Then came the blues - a cracking version of
Pink Champagne
from the pen of Joe Liggins to round off the set.
After the fire alarm delay Joe Lee soon pulled the audience back with some lovely ballads including a medley created from the Billy Eckstein song
I Want To Talk About
You
running in and out of Errol Garner's
Misty
. More blues with Norman Mapp's
Jazz Ain't Nothin' But Soul
and Joe Lee's signature tune from "Oklahoma"
Oh What A
Beautiful Mornin'
. [with, as Lee Gibson would put it, "mangled" lyrics.] The set wound down with powerful versions of
Somewhere Over The Rainbow
and
Every Time We
Say Goodbye
. More usually heard from singers of the fairer sex, their inclusion was a reminder that this was the first male vocalist we have had at the club, and a great job he did.
Sunday May 15th - The Sheena Davis Group at The Royal Clifton Hotel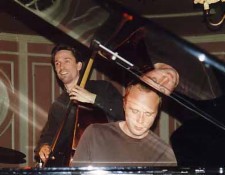 This isn't a trio backing a vocalist, this is a complete band with the
Sheena
Davis's
vocalese as integrated as
Tom Pilling's
excellent piano,
Robert Rickenberg's
bass and
Stephen
Rushton'
s exciting drum work. The band has really sharpened up since we last heard them a year ago at a neighbouring venue and the evening was well attended and thoroughly enjoyed by all at it's first SMJC gig.
It Might As Well Rain Until September
proved a popular opener but things got more interesting with a great arrangement of
Perfidia
which gave the first clue of Tom's ability to accompany and yet really feature in his breaks. You don't often hear
Matchmaker
from "Fiddler On The Roof" at a jazz gig and Sheena followed it with a touching
Almost
Like Being In Love
and an up tempo
Let's Face The Music And Dance
. All that's been written and said about Sheena's "spot on" sense of timing was clearly reinforced tonight. A surprise to most was the quality of the three original songs she and husband Robert have written for the band.
At The Start
, the beebop style
Jamie's Grin
and, most of all their latest
Spring In My Step
(in the second set) were very well recieved.
Other gems worth a mention were the quirky
Tweet Tweet Tweet
, Lil' Harding-Armstrong's melancholy
Just For A Thrill
, a magnificent version of the Doris Day hit
Secret Love
with some exquisite piano work and an express train rendition of
Lady Be
Good
. For your reviewer the highlight of the evening was the group's waltz time arrangement of Jerome Kern's evergreen
Pick Yourself Up
with some intriguingly different key changes. The loudest applause came for a rollocking blues on Elvis's
Teddy Bear
. A really tight, professional and slick presentation kept the whole thing moving throughout. They sold a lot of CD's. For details of these visit their website
www.sheenadavis.com
via our links button.
Sunday June 19 2005 at The Royal Clifton Hotel Southport - John Hallam with The Robin Aspland Trio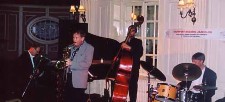 Mat Miles
depped for Jeremy Brown to join
Robin Aspland
and
Steve Brown
in a quartet featuring
John Hallam
on tenor/baritone saxes and clarinet.
The idea for the gig came when the trio accompanied Anita Wardell here in February. John was on the same bill alongside accordionist Jack Emblow. It turned out to be a good idea; the evening produced some great jazz which pleased the full house audience and the musicians. When he didn't have a reed in his mouth, John's face basked in a permanent grin!
Opening on tenor, John chose
No Greater Love,
followed by the old Earl Bostick hit
Flamingo
, played quietly as a bossa nova. You could feel him loosening up to this superb rhythm section as the piece developed. His most requested clarinet number
Poor Butterfly
was played with hushed tone, all the more noticeable as a contast to the previous break-neck Goodman like version of Billy Strayhorn's
Johnny Come Lately
. Before returning to tenor to conclude the first set with Ellington's
Just Sittin' And A
Rockin'
he popped in a baritone feature on Harry Warren's standard
There Will Never
Be Another You
and gave the trio a feature with an incredibly swinging rendition of Kenny Barron's
Voyager
.
Familiar Mulligan tunes on baritone were the perfect opener for the second set. BernieMiller's
Bernie's Tune
and Mulligan's own
Line For Lyons
produced exquisite solos all round. John, by now in top gear, showed the tonal and mood contrast on his tenor between a rocking
Devil And The Deep Blue Sea
and an evocation of the 1930's with a requested
I Surrender Dear
. The trio's superb feature on the jazz waltz
Some Time Ago
proved Robin Aspland's place in the UK jazz pianists' premiership league. It was slotted in before John's virtuoso clarinet takes on
Stealin' Apples
and Hubie Blake's
Love Will Find A Way,
which included a fine bowed bass solo from Mat. A tenor romp through
Apple Honey
complete with big band style drum solo from Steve brought this joyous gig to an end and a deserved standing ovation.
23 - 26 June at The Royal Clifton Hotel - During Southport International Jazz Festival 2005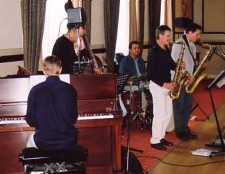 The two headline gigs took place at the weekend lunchtimes in the acoustically excellent Balmoral Suite with the hotel laying on a selection of seasonal fare. Both gigs were well attended.
Ian Darrington
brought a superbly on form
Wigan Youth Jazz Orchestra
on Saturday. This present band is at it's peak, with many of it's players about to leave for universities and music colleges. Two soloists in particular were outstanding and show great promise.
Jonathan Murray
(trumpet and flugelhorn) and
Lucas Dodd
(alto sax) both seem ready to launch into professional music careers. [The club is seeking to organise a gig to include them next season.] We were delighted to see
Dave Lynane
join them on the stand on both bass and bass guitar and provide a virtual master class in his art for this young band. Ian Darrington explained some of the joys, problems and experiences of directing and touring with WYJO over the last 25 or so years. The audience were appreciative of this inside view and surprised to learn that the band has accumulated over 6000 music charts during that time. Saxophonist and jazz guru at
The Royal Northern College Of Music
Mike Hall
put together a quintet programmed as
From Gordon To Getz
for this gig, which exceeded some already high expectations of jazz performance. He brought along fellow tenorist
Mike Hope
for a programme devoted to the music of Dexter Gordon and Stan Getz. Hope showed a real enthusiasm for the Getz style and the band chose pieces from different points in the great man's career. Hall's more robust tone fitted well into the Gordon arrangements. Both men empathised and scattered and swapped ideas like confetti. Their rhythm section swung like crazy. Bassist
Steve Berry
, drummer
Eryl Roberts
and outstanding young pianist
Dan Whieldon
provided truly magnificent collective support and individual contributions. [The club has asked them back for a gig next year.]
Picture - Mike Hall Quintet
One other young outstanding find from the weekend was bassist
Gavin Barras
who depped in
Frank O'Niel
's
First Come First Served
quartet on Friday evening. He has great style, thoughtful improvisational skill and really drives the rhythm section. Gavin also featured in the Southport Festival in guitarist
Steve Mead's
quartet and
Ed Barnwell
's trio - both at The Scarisbrick Hotel.
Solo spots
on The Royal Clifton's superb Steinway - Boston grand piano were given by
David Saul
(on Thursday) and
Vinny Parker
(on Sunday). Both brought a lifetimes' experience to the art of solo jazz piano and provided a musical treat for all those in the Chatsworth Lounge.
21st August 2005 Mark Nightingale/Dave Horler Quintet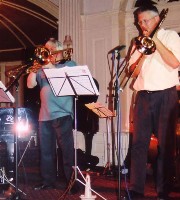 This was a much awaited return gig - The below expected audience was, by most accounts, due to the absence of the gifted slide man Barnaby Dickinson. The absentees missed a real treat from his dep, brother of pianist
John Horler,
brilliant valve trombonist
Dave Horler
who provided a touch of magic to maestro
Mark
Nightingale's
assembled two trombone arrangements. Mark brought some different material from that played at his last gig a year ago; but still kept the thread of homage to the innovators of modern jazz trombone, JJ and K. Dave Horler is a great friend, admirer of and collaborator with the legendary Bob Brookmeyer and his solo work was at times reminiscent. The group set the scene with a driving version JJ's take on Cole Porter with
Love For Rent
. Curtis Fuller's
Sweetness
was contrastingly smooth and tender with Dave providing a positively purring solo. John Horler's arrangement of Gershwin's
Nice Work - - -
was graced with some stunning muted trombone from Mark. The Brookmeyer influence came bouncing through on the great man's own
Hum
and the set wound up on the classic original JJ arrangement of
It's All Right With Me
. Something sounding remarkably like
I Got Rhythm
opened the second half followed by
Sam Burgess
's bass feature on
Cherokee
which went down a storm. Dave Horler gave us a masterclass in trombone tone and dexterity on
Body And Soul
. The contrast with Monk's blues
Straight No Chaser
- bouncy and sharp - picked out
Mike Smith'
s effective but unpretentious drum work. This great quintet rounded off with
Who Cares
and
Limelight
.
September 18th Martin Speake Constellation - "Charlie Parker Project"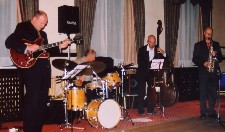 Martin Speake
- alto sax
Mike Walker
- guitar
Dave Whitford
- bass
Dave Wickins
- drums
This was an odd gig indeed. A small but enthusiastic turn out with a good number of new faces for a noteable quartet that has played Martin's arrangements of Parker's legacy at over 60 venues and sold a good number of CD's in the process. Mike Walker depped for Mike Outram and made a notable impression on the whole performance on his first run through these hardly straightforward arrangements. Dave Wickins's percussion (calling it drumming is an understatement) was superb - we've come to expect that in whatever company he plays. Dave Whitford's bass work equally notable. One devout Charlie Parker worshipper in the audience commented that "it was good stuff but he couldn't really see what it had to do with Parker"! There is no doubt that Martin is a gifted musician and improviser and his arrangements creative and challenging to musicians and audience - at least to this one. Somehow his softish tone lacked the bite one expected to hear in these iconic tunes associated with Bird. Still a good night all round.
First set
:- Chase The Bird : Diverse : I'm In The Mood For Love : Visa : Embraceable You : I Didn't Know What Time It Was : Donna Lee : Sly Mongoose.

Second
:- Bebop : Don't Blame Me : The Hymn : Driftin' : Bird Feathers : My Old
Flame : Koko : Barbados
: Encore -
How Deep Is The Ocean.
For full details of the music and CD visit Martin Speake's website via our links page.
Sunday October 16th - The David Newton Trio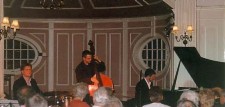 David Newton
(piano) -
Matt Miles
(bass) -
Matt Skelton
(drums)
Numbers from the trio's new CD "Inspired" [Bright New Day Records] were featured strongly, the first set opening with Tad Dameron's
On A Misty Night
. It set the scene for one of the most attention riveting evenings of piano trio jazz ever at the club. Matt Skelton depped for Steve Brown, providing a different tone to the trio - sometimes perhaps too forceful but always with great swing. Dave, as always, attracted a big and very appreciative audience.
Detour Ahead
from Herb Ellis preceded a subtle bossa take on
Here's That Rainy Day
and an up tempo drum feature on Irving Berlin's classic
Cheek To Cheek
. Matt Miles has contributed a beautiful 4 voice tune for the new CD entitled
Lifetimes
which proved one of the highlights. Dave, as promised, included
You Do Something To Me
from the 2000 recording "Halfway To Dawn". A well disguised
Pennies Fom Heaven
had everybody guessing and David had the whole audience spellbound with
'Small Hotel
,
I Can't Get Started
and
Someone To Watch Over Me
. The trio encored with
Darn That Dream
. David's playing just seems to get better with every visit. One devotee likened the effect of his music to that created by an impressionist painting. That seemed to sum it up well. We are indeed fortunate to have him around. One of the all time greats of British jazz.
Sunday November 20th at the Royal Clifton Hotel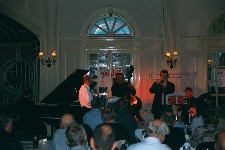 The Alan Barnes Quintet - Horace Silver Tribute
Alan Barnes
- alto sax
Steve Waterman
- trumpet
John Donaldson
- piano
Dave Green
- bass
Steve Brown
- drums Alan has played the last gig of our season for the last four years - each time with a different project featuring a recent recording with. It has always been memorable jazz and great fun. This was no exception. It was your reviewer's fourth exposure of the year to this very fine John Donaldson crafted tribute to Horace Silver's musical legacy; each time producing some World class ensemble and solo playing; each time getting tighter and more exciting. Tonight was a stupendous performance in front of a full house audience that demanded and got two encores and two pieces not on the SPECIFIC JAZZ CD
'Yeah.'
-
Hard Bop Grandpop
and Horace's take on How High The Moon,
Quicksilver
.
It isn't possible, meaningful or necessary to single out particular solos or features from the evening. The whole outfit was just outstanding. The rhythm section played as one. The two horns dived in and out like swooping swallows. It was Steve Waterman's first visit to the club and it was most of the audiences' first hearing of his exceptional talent - and they showed their appreciation. Alan gave his usual 101% entertainment value and was himself on top musical form. His solo on
Peace
goes down as one never to be forgotten. In fact that goes for the whole evening.
Sunday January 15th - Tina May with the Mike Hall Quartet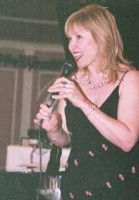 Review by Rob Doyle - The Champion Newspaper - 18th January
TINA MAY
is certainly a slow burner. In an unusually chilly Royal Clifton ballroom, she took a while to find her fire, but once warmed up, she was as hot as hell.
Looking gorgeous, with a voice to make grown men swoon, she is a charismatic and skilled vocalist. But arriving directly from Paris, perhaps left her a little lagged, and in the early songs, such as Thelonious Monk's
Well You Needn't
, this reviewer had the feeling that Tina and the band were holding back. Tenor sax and bandleader
Mike Hall
was particularily shy in the opening up tempo numbers, giving the odd toot instead of the throaty solos we've come to expect from this Royal Northern College of Music maestro.
But, suitably. everything changed with a ballad called
You've Changed
. Here we got to see at last May's quiet confident power, which was complemented perfectly by
Dan Whieldon
on piano. Whieldon really came into his own in the second half. Indeed, fortified by their half time coffee, it was like watching a different band. Numbers like
I Do
It For Your Love
,
September In The Rain
(sung mostly in French) and
How The Time
Goes By
were inventive and warm. Hall began to blow and there were class solos from
Steve Berry
on bass and
Eryl Roberts
on drums.
The climax came with a superb rendition of one of Duke Ellington.
Sacred
scores and his bands signature tune
Take The A Train
. A fantastic finale and a suitable way to celebrate Southport Jazz Club's 5th birthday.
Champ Verdict 3/5 Getting Warmer
.
Sunday 19th March 2006 Tommy Whittle with The Vinny Parker Trio plus John Hallam
A long awaited return visit by Tommy Whittle. His career goes back over 50 years to the roots of British modern jazz and also to the early days of SMJC when he was a regular contributor with the late Kenny Baker and others from the great Ted Heath Orchestra. John Hallam (tenor sax and clarinet) expressed some trepidation at the prospect of sharing the stand for the first time with Tommy. He needn't have. His support was sympathetic and added considerably to the whole proceedings. Vinny Parker was Tommy's choice on piano and he picked Dave Turner on bass and Tim Franks on drums. Tommy's late arrival gave little opportunity for organising the sets and the quartet kicked off without him with John on clarinet with his favourite Poor Butterfly and Pennies From Heaven. Tommy was warmly applauded onto the stage and produced a characteristically melting opening solo on Darn That Dream. Despite unusually long gaps for consultation, the programme produced some classic mainstream solos and duets on Just Friends, Don't Get Around Much, and a magnificent Laura from Tommy. Vinny played his socks off throughout, he really is an exceptionally good and under rated pianist, comfortable on slow ballads and rip roarers like Tommy's Ted Heath arrangement of How High The Moon. One of the highlights of the evening was the tenor duet on Flamingo, with Tommy and John swopping phrases and with remakably similar tonal qualities. The evening should have ended with the ballad medley of Body And Soul, Stars Fell, Time Was and Tenderly. The audience had different ideas and things went on with two encores. Tommy is basking in the success of his latest CD (Spotlite SPJ548) which has had excellent reviews and a TOP CD 2004 award. He just keeps defying the years and producing some timeless and melodic jazz that certainly went down well in Southport tonight.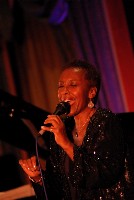 2007 Jazz on a Winter's Weekend Festival

By Robert Doyle, Jazz Critic, Champion Newspaper Group
THE third Jazz on a Winter's Weekend festival surpassed all expectations with a collection of gigs that places Southport's flag firmly on the UK's jazz map.
Sell-out crowds gave standing ovations at one world-class performance after another, the finest of which was Stan Tracey and Bobby Wellins' recreation of their seminal 1965 recording Under Milk Wood.
With a bigger venue planned for next year — and exciting plans in the pipeline to extend even further — the sky is the limit.
The three-day festival, organised by the Southport Melodic Jazz Club and taking place at the Royal Clifton Hotel, grows bigger, better and bolder each year.
It is also starting to attract a younger audience, not necessarily jazz fans but music lovers bored by the pop slop served up to them and looking for something new.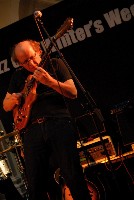 The real cool cats found what they were looking for with Pete Oxley's Curious Paradise on Saturday afternoon.
Paradise were everything you would expect from the SMJC's policy of throwing a joker into every festival pack.
Inventive, original and too way out for the meat and two veg crowd, they thrilled their small audience with a sparkling collection of tunes, best of which was an epic, pulsating tribute to children's storybook character The Gruffulo.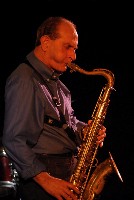 On Friday night, singer Elaine Delmar offered a sassy masterclass in the songs of Porter and Gershwin. Her version of Love for Sale was so hot, a few gentlemen in the audience were reaching for their cheque books at the end.
Late Friday night saw sax king Bobby Wellins with a quartet he rightly described as the creme de la creme joyously stamp their mark on a host of classics like Green Dolphin Street.
On Favela, Wellins quartet turned their hands to a Brazilian classic that morphed into an impressive duel between bass and piano before catching a bossa nova bus back to Rio.
Mark Edwards on piano was simply magnificent, despite having to put up with some geezer from the crowd who thought the price of a ticket entitled him to wander up the stage and breathe down the great man's neck.
A Michael Brecker tune Cabin in the Sky saw Wellins at his most expressive and emotional. He is in his 70th year, free of drink, drugs, and now cigarettes, and playing like a man in the prime of life.
Saturday morning saw local heroes the Swingshift big band take to the stage with special guest stars Alan Barnes, Barnaby Dickinson, Mark Edwards again and ace trumpet player Steve Waterman. Swingshift manage to combine a warm feeling of nostalgia with just enough 21st century bite. They are crowd pleasers and great professionals, but at their best when they throw something spikey into the mix such as on MacArthur Park — a track which could well become their signature tune.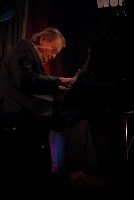 There was lashings of praise for Simon Spillet's quartet, the Alan Barnes Octet's Seven Ages of Jazz Suite with Liz Fletcher and playwright Alan Plater, John Donaldson and Mark Edwards on two pianos, Andy Panayi's septet, Lucas Dodd's Quartet and everything else — including a host of workshops and exhibitions — that went to make this an unforgettable weekend.
But the stand out of this festival without a doubt was the reunion of Stan Tracey and Bobby Wellins.
Following a first half of impressive performances of standards and new tracks, including a specially composed new tune called Midnight in Southport, the quartet were joined by Welsh actor Philip Madoc, who read passages from Dylan Thomas' Under Milk Wood between Tracey's sublime musical takes on the celebrated play for voices.
As the last note faded away, this reviewer leapt to his feet to applaud what was one of the most memorable performances he had ever seen. Top this next year? That's one hell of a tall order.
New reviews
Our regular gig reviewer has retired. We would welcome reviews of any gigs from anyone attending. Publication not guaranteed. Contributions by e mail please.
matthewsjazz@sky.com